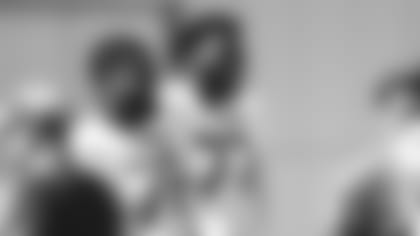 For Mekhi Becton, the view from the Jets practice field, with him at the end of the offensive line and in the middle of the first session of training camp, was priceless.
"It felt great to be out there with my teammates. It was fun," Becton said. "I can't wait to do it tomorrow."
Yet he'll be playing tomorrow with a new, slightly different perspective than he had in his first season-plus-part-of-a-game that he spent as the Jets' left tackle. He's now the Green & White's right tackle.
Head coach Robert Saleh announced that long-anticipated change, George Fant staying at LT and Becton moving from left to right, at his news conference right after the end of practice. And Becton says he's on board all the way.
"He's good, George is good, they're fine," Saleh said. "We just sat down and talked about it. We don't want those guys jumping back and forth so we made the decision that's best for the team. George had a good year on the left side. That doesn't mean Mekhi's left tackle days are over, but like AVT [Alijah Vera-Tucker, who made the move from LG to RG in the offseason], he's young enough to make that transition."
"It doesn't really matter to me," Becton said a short while after his coach spoke. "I've just got to change my technique up. As long as I'm on the field, it doesn't really matter. I know I've got to do different things on the right side than I got to do on the left side, and I'm still getting used to that. So it's a work in progress. ... It's going to be a little rust every now and then, but I've just got to push through and keep working."
It's also a work that he made some progress on as a college player at Louisville, when he played both sides of the line in 2017 and '18 before settling in at LT as a junior in '19. By one count, he started 21 games at LT and 12 at RT and flipped sides "in the midst of many of those 33 games."
"I know with Coach [Bobby] Petrino, we had a strong side and a weak side, and my freshman year I was the strongside tackle," Becton recalled. "It was depending on what play he called that game and how many times he called it. But I really don't have a number [of plays], to be honest with you."
Becton had several other bullet points he was asked about after Wednesday's first practice of camp.
Knee — Of the injury he sustained in late in the third quarter against the Panthers that required surgery and sidelined him the rest of the '21 season, he said, "I'm just playing, I'm just blessed to be on the field again, honestly." Becton worked at the Atlantic Health Jets Training Center all offseason except for the July 4 week. He was placed on active/PUP last week but was activated Tuesday after passing his physical.
Weight — Becton's program weight was 369 pounds at Louisville and at 355 as a Jet. No one's specifying exactly where he's tipping the scales now. "I feel good where I'm at right now, yeah, for sure," he said. And Saleh said: "I'm not going to get too much into the weight, but he got himself into football shape. He's a gifted athlete, a gifted man, and we're just really excited about the direction he's going."
Fatherhood — Mekhi became a proud first-time papa in May. Asked if it was harder to change a diaper or play right tackle, he laughed and said, "Play the right side."
On the theory that LT is more important in the NFL scheme of things than RT, Becton said, "I wouldn't say that perception is wrong. But I'm not too much focused on that. I'm just trying to get on the field and play a full season."
And he said, right or left, he's hardly giving up his dreams of making a big name for himself in the pros. Of his right side work this camp and preseason, he said:
"It'll help me out a lot. But I'm going to still do my own type of work on the side. Just practice is not going to be enough to get where I want to be."
See the Green & White on the field for the first time at 2022 Training Camp.