Returning from a vake break, I came in through the business entrance of the Atlantic Health Jets Training Center as usual. Everything looked the same, yet something, something was different ...
Yes, that's it. No. 12, not No. 4, was looking down on me from above.
More specifically, the Jets have changed up the six vertical player panels that greet everyone going by this portal. Last year the Jets' six captains were so honored, with Brett Favre batting leadoff.
But Rex Ryan, as we all know, is a big fan of the Green & White heritage, and with two of last year's captains (Favre, David Bowens) having moved on, a change was in order. Vicky Vitarelli, senior director of marketing, has been doing a great job with coordinating the new features that liven up the inside and outside of the building (the "fan wall" and such features as all-time team award winners and all-time uniform numbers), and she recently huddled with our friends at National Communications Group on new images.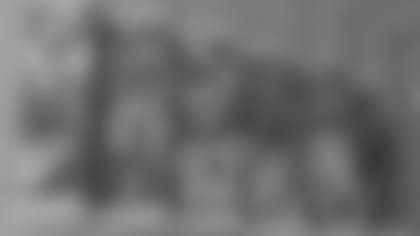 The result: Joe Namath greets us on the left-most panel, poised to fire a touchdown pass. He's followed by five other greats from Jets history: WR Don Maynard, tackle Winston Hill, D-lineman Joe Klecko, WR Wayne Chrebet and RB Curtis Martin.
We're going to pop up my BlackBerry photo of the panels, and fans will get to see this display for themselves when they show up for the three days of training camp practices in late August here at the training center.
Early this evening, the Jets announced that they have released tight end Bubba Franks. The news story will be posted on newyorkjets.com shortly.
Clowney Having "Fun" in the Sun
David Clowney's latest blog details the work he's been doing down Miami way with a couple of familiar names: LB Takeo Spikes and RB Jamal Lewis, to be specific.
The workouts have been on the beach but it's not exactly fun in the sun.
"It's rough when you do everything in the sand," David writes. "We do 40-yard sprints, backpedals, 100-yard sprints, reaction drills. Most days I'm working out twice, running in the morning and lifting in the afternoon, then switching it up. As a receiver it's important to lift a lot with your legs to keep them strong, keep your speed and stamina up late in the game. I also bench to build upper-body strength so when a DB presses you at the line you can get him off."
But Clowney hasn't exactly been a Miami monk. Read about his July globetrotting here on his latest blog. http://www.davidclowney87.com/blog.html
Jones: Once Namath's Understudy
We offer our condolences to the family of John "J.J." Jones, the one-time backup to Namath who died Thursday in Pierce County, Wash., in a house fire labeled of suspicious origin by police. He was 57.
Jones played scholastically in Memphis and collegiately at Fisk in Nashville before coming to the Jets as an undrafted free agent, signed after a tryout, in 1974. In that preseason, he threw four touchdown passes, including two to David Knight in a start against Denver, but then was injured and spent the entire season on IR.
Then in 1975 Jones graduated to become Namath's backup, playing in seven games. His claim to fame: He got one start for Broadway Joe and it was on a national stage.
J.J. got the nod in the next-to-last game of the season, which just happened to be ABC's final Monday night telecast of the year, at San Diego, when interim head coach Ken Shipp benched Namath for a curfew violation. Namath came on in the second half of the 24-16 loss to the Chargers.
It was the only start in the only NFL season in Jones' career. He finished with 16 completions in 57 attempts for 181 yards, one TD and five INTs, and with nine rushes for 59 yards.