The Jets' inside linebacker picture has been virtually unchanged the past three seasons, with David Harris and Demario Davis each taking more than 97% of the defensive snaps there.
That balance shifted against Miami as Davis was in for only 35 of the Jets' 72 defensive snaps and Erin Henderson got 28 snaps, his most in a game in his first season as a Jet.
Defensive coordinator Kacy Rodgers said today the split was less about Davis and more about Henderson.
"When we watched Erin, his special teams and his practice habits were through the roof," Rodgers said. "One thing we address to the group is that we're going to need everybody. It's such a long season and guys get banged up. ... We're studying the tape, we're seeing who's ready to play, who's ready for a bigger role. Erin was one of those guys."
Henderson continues his head-down-hard-work approach that he showed in his first six seasons with Minnesota, and especially his last three as a starter, before sitting out last year.
"The whole thing about playing this game is trust," he told me after today's practice leading toward Sunday's road showdown with the Giants. "It's about gaining the trust of your teammates as well as your coaches and the organization, to the point where they believe in you that you'll be able to get the job done. So every chance you get, you want to make the most of it, make sure you're playing to the best of your ability and you're leaving it all out there."
In kick coverage, Henderson's nine solos and 10 total tackles lead the Jets. And in his extended play against the Dolphins, he contributed five tackles, including a tackle at the line of Larmar Miller, plus a pass breakup.
He knows his role could change Sunday, but he'd like a shot at adding to his one big game against Big Blue for the Vikings, on an October Monday night in 2013. The Vikes lost, 23-7, but Henderson had a game-high 14 tackles, a sack of Eli Manning, and two tackles behind the line.
"Not a bad night, right?" he said. "This is another chance to play in MetLife, another opportunity." And Henderson's next shot at earning trust and leaving it all on the field.
D''Brickashaw's Challenge du Jour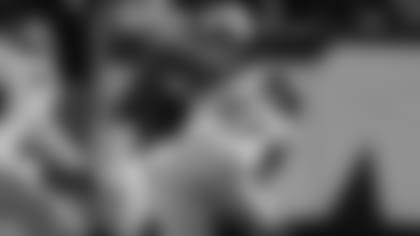 One of the "trenchant" matchups in this game will be Jets LT D'Brickashaw Ferguson against Giants RDE Jason Pierre-Paul, who's played three games since coming back from his July 4 hand injury. As coordinator Chan Gailey said, JPP "looks like he's getting better each week to me, from the first game until the last game he played in, so that's a little unnerving."
But Ferguson has nerves of steel and he also has a unique perspective on his weekly task.
"He's a very talented player. I've played him several times in the past. I know he's very explosive and you've got to prepare for a guy like that," Ferguson said. "Every year is unique, but at the end of the day you're required to block a certain guy who typically is that team's representative. So I'm honored and I recognize the challenge it is, week in and week out, to go against these guys."
Some have noted that Ferguson has been penalized seven times this season, which is true, and that already matches the most penalties marked off against him in a season, back in 2009.
But Ferguson remains one of the most technically sound tackles in the game. One measure of that: His hold against the Texans' J.J. Watt two weeks ago was the first holding penalty on offense marked off against him in the last five years and just the 10th in his 10th season as the Jets' left tackle.
The expectation with Ferguosn, said Gailey "is so high because he has been so good for so many years, not missing snaps, playing well, that you almost say we know what's there and you start to get yourself concerned with other areas. He's been really good. He's done a good job."