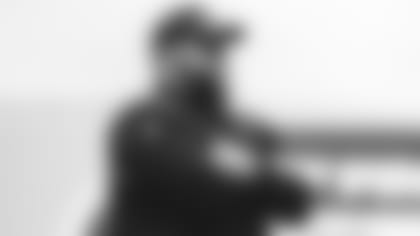 When the Jets' offseason began last month, HC Robert Saleh declared that the team would pursue a veteran quarterback.
According to media reports, Derek Carr, who was released last week by Las Vegas, met with the Jets' braintrust at 1 Jets Drive last weekend. The recent hiring of Nathaniel Hackett as the team's new offensive coordinator turned up the volume to 11 because he worked with Aaron Rodgers in Green Bay.
Among the media commentariat during the week leading up to the Super Bowl, two analysts with Pro Football Focus zeroed in on the players they believe could be a good fit for the Green & White.
Steve Palazzolo, Senior NFL Analyst
Who makes sense?
"Well Aaron Rodgers seems like the most obvious one right there with Nathaniel Hackett and everything," Palazzolo said. "But it's an interesting one because I do think there's several upgrades out there.
"Derek Carr is an upgrade. There are rumors out here on media row that perhaps Aaron Rodgers wants to become a Tennessee Titan or could end up as a Tennessee Titan, and that opens up a Ryan Tannehill. I mean, all those guys are upgrades.
"I believe as much as Mike White was impressive in his limited time, you're not going to build around Mike White."
White will become an unrestricted free agent on March 15 (one of 20 Jets players). During his career with the Jets, White has a 2-5 record as a starter, but this past season he earned the respect of his teammates by playing with five broken ribs. The Jets still have Zach Wilson under contract and recently signed Chris Streveler to a reserve/futures contract.
"I think Ryan Tannehill (who is under contract in Tennessee) and Derek Carr are both upgrades," Palazzolo said. "Jimmy Garoppolo is an upgrade. The fascinating thing around the NFL now though is there are teams moving on from those quarterbacks and then there's teams like the Jets who were saying we don't have one, let's go right get that next guy because he's going to improve us.
"Garoppolo would make sense. I think he could fit into that system fine. Tannehill is the guy that fits the least into that group. I do think Garoppolo and Derek Carr make sense beyond Aaron Rodgers."
Sam Monson, Lead NFL Analyst
Did someone say Tom Brady?
"You have to love what Aaron Rodgers would look like in this offense," Monson said. "But I thought, weirdly, that Tom Brady made a lot of sense, but that was before he retired.
"The Jets, to me, are the best situation for a quarterback who wants to step into a team that can win tomorrow, a team if you're an Aaron Rodgers or a Tom Brady, can get you to a Super Bowl before you hang them up. The Jets are that team. They should have made the playoffs this year despite the quarterback situation and an upgrade from anyone who was throwing the ball this year would be massive.
"This team is ready to win. The defense is incredible, the skill-position players are really good, the offensive line should be better. Even if you have to give up something in a trade, it's still worth it."
Monson said he sees opportunity for the Jets beyond Rodgers, a player like Carr. A guy who may not be flashy or among the elite, but who has talent enough to "be average."
"How much is Derek Carr worth to you?" he said. "He will be average. But for a team like the Jets, they just need to know they have a guy who's not going to drag this thing down. Carr could come in with a high certainty to give you an average NFL starting player, which would make the Jets a good team.
"Their problem is in this division [AFC East] you're still in a tough spot. Buffalo is not going anywhere with [Josh] Allen, Miami looked incredible until Tua [Tagovailoa] was dealing with concussions and the Patriots are never going to suck over the whole year. The Jets have to look at this average quarterback as an upgrade, but is it enough?"