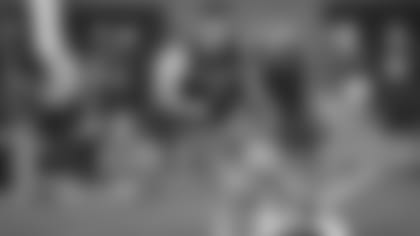 Lost, at least for the moment, Pro Days continue apace at colleges and universities around the country as the start of free agency officially kicks off on Wednesday. And although GM Joe Douglas and the Jets reportedly reached agreement with three free agents early this week, Douglas and his staff are continuing to keep a close watch on Pro Days.
Despite the flurry of free-agent moves, Douglas has been emphatic saying that the path forward for the Jets is through the draft. The pandemic has made the evaluation of college players more challenging, but with two first-round picks, a second, and two third-round selections (5 of the top 87 picks; 6 of the top 98), Douglas is giving every indication that he's a man of his word.
"Ultimately for us to get to where the great teams are, the most consistent teams are, you do that through the draft," Douglas recently told reporters. "It's the most team-friendly market in sports. For us to really be that team that's consistently competing for Super Bowls, we have to hit on our draft picks."
While there are an overwhelming number of mock drafts floating around, we are still more than one month away from April 29th in Cleveland, the first of the three-day event. It's stating the obvious to say that can change, and the Jets' draft capital gives the team rare flexibility.
QB Trey Lance/North Dakota State
More than a dozen NFL coaches and general managers made the trek to the Upper Midwest on March 12 to get an up-close look at Trey Lance, who won't turn 21 until May 9. Lance (6-4, 224) played only one season at North Dakota State (66.9 percent completion rate, 9.7 yards per pass, 28 touchdowns and 0 interceptions, plus 1,100 rushing yards and 14 touchdowns) after redshirting in 2018 and then opting out in October after lining up against Central Arkansas and accounting for 4 TDs. He finished his career with a 17-0 record as a starting quarterback.
At a post-workout press conference Lance was asked if he had spoken to the Jets: "I'm not going to speak on any teams I've met with. I have had a ton of Zoom meetings over the last couple of months and will continue to."
Lance completed 58 of his 66 throws during the workout, displaying impressive arm strength and accuracy.
"The biggest thing for me is about cleaning up everything, keeping my feet on the ground, little things like that," he said. "Being as clean as possible inside or outside the pocket, be as clean and polished as I can. Whatever situation I'm put into I'll be ready to go. I don't pick where I go, but will be super grateful to go anywhere."
NFL Network draft analyst Daniel Jeremiah has compared Lance to Steve McNair.
RB Travis Etienne and WR Amari Rodgers/Clemson
QB Trevor Lawrence, who is expected to be the No. 1 overall draft pick, had his own Pro Day last month. But Clemson is more than one player and Travis Etienne and Amari Rodgers each made a case in the draft at the Tigers' Pro Day on March 11.
Etienne (5-10, 215) stayed at Clemson for his senior season and was tabbed as the No. 23 pick, going to the Jets, in Bucky Brooks' mock draft (ranked behind Alabama's Najee Harris) and he's No. 18 on Daniel Jeremiah's list of the Top 50 players in the draft. This past season Etienne broke C.J. Spiller's school rushing record with 6,107 yards.
"I never take anything for granted, you're not entitled to anything and my work ethic is going to last a lifetime," Etienne said. "I'm one of the best field guys in the draft, I can do it all. Being in the game I possess a lot of things, God given. I'm able to be out there three downs, play special teams, able to impact a team each and every down makes me different and worthy of the first round."
Rodgers (5-9, 211) could drop to the second round in a draft replete with promising wide receivers. He was named a first team ACC selection after starting 12 games and leading the team with 77 receptions for 1,020 yards and 7 TDs (tied for the team lead).
Coming out of Knoxville (TN) Catholic High School, Rodgers, who has 4.4 speed, received scholarship offers from Alabama, Florida State, LSU, Tennessee, and USC. He originally committed to USC, saying he was eager to play with QB Sam Darnold, but changed his mind when Clemson came calling. Rodgers said he was a running back in high school up until his junior year and that one NFL scout asked him to take reps catching passes out of the backfield during Pro Day.
"I was approached and he asked about using me on third down, getting a mismatch on the linebacker, and he wanted to see me moving out of the backfield," Rodgers said. "I wasn't expecting it, but it made sense. As a running back in high school, I still have the mindset that every time I get the ball I'm trying to score. It's just my mindset."
OL Rashawn Slater/Northwestern
Rashawn Slater opted out of the Wildcats 2020 season over his concern about the coronavirus pandemic.
"I made a decision to keep training when the [Big 10] season restarted," Slater (6-3, 205) said. "It was my decision to see it through. The team knew they had my support. I was the first guy out there watching the game [the conference championship against Ohio State] and rooting them on. At the same time I took a different path and was focused on my training."
Slater is Daniel Jeremiah's highest-rated offensive lineman in his top 50 players, and No. 7 overall. Slater could be the fifth Northwestern player selected in the first round in the common draft era (since 1967). Bucky Brooks has him as the No. 2 offensive lineman (after Oregon's Penei Sewell, who also opted out of the season).
"I think I'm the best tackle in the draft," Slater said. "I have a high level of confidence, at the same time, I'm a team player. If you want to play me as a guard, that's fine. Wherever they need me at, I'm fine."