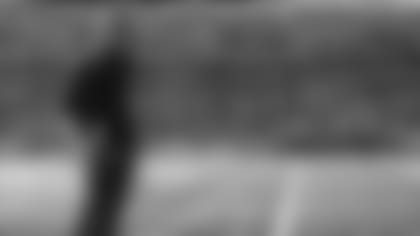 Along Radio Row at the Super Bowl in Arizona last week there was a big game to discuss, but a good deal of the chatter and much of the buzz was focused on the Jets' determination to acquire a veteran quarterback.
Rich Eisen of NFL Network is well aware of who the usual suspects are, but offered a spin in contradiction to much of the conventional wisdom coming from the media and elsewhere.
"I don't know," Eisen said. "I mean, one that to me does make sense for the organization more than anything else would be [Jimmy] Garoppolo. If they do want to run an offense, obviously, Mike [LaFleur] is no longer there. But if they want to run an offense similar to that, get a guy who's done it, get a guy who's done it in the NFC [with San Francisco] and the AFC East [with New England], who's done it and go to battle with him. He strikes me as somebody who could do it.
"His problem is his durability -- just can't play a full season. You know, would Derek Carr work in New York? I don't know. I don't think Aaron Rodgers would want to follow the path of [Brett] Farve I don't know if he'd want to go to New York. I don't know if that is something that he would want to endeavor. I just don't know if it's a good fit for him, quite frankly. Oh, who? I think of all of them. Garoppolo might be the best."
Whoever is the quarterback for the Jets in Week 1 in September, he will be working with the team's new offensive coordinator in Nathaniel Hackett.
"He is an incredibly respected offensive mind who has had levels of success from Aaron Rodgers to Blake Bortles in Jacksonville that got that team one win away from making the Super Bowl by beating New England in New England," Eisen said. "So, let's get the offensive coordinator who almost beat New England. That is going to be a huge one, for sure. And he's got a sunny disposition."
Joe Douglas and Robert Saleh in Jets' Cockpit
Building a team and a culture have been Job 1 ever since Joe Douglas was named the Jets' general manager in June 2019.
"Ultimately, I think when you look at successful organizations, no matter what the sport, you don't see a lot of teams that build long-term success by buying their way out of it," Douglas said in 2020. "You see the teams, the organizations that have long-term success, they draft well, and they develop their players."
The commitment of building through the draft paid dividends in a big way during the 2022 NFL season and was acknowledged when Sauce Gardner, the No. 4 overall pick last year, and Garrett Wilson, the No. 10 overall selection, won the AP Defensive and Offensive Player of the Year Awards at NFL Honors last week.
Douglas was in Philadelphia when the Eagles went to the Super Bowl after the 2017 season and defeated New England to claim the championship.
"In New York, he's doing it the right way," said Philly podcaster Tony Bruno, the host of the "Tony Bruno Show." "There's nobody I've ever met or talked to who has anything bad to say about Joe Douglas. He's paid his dues. And that's what you want to see."
Douglas, who has been in the league nearly 25 years, started his road to 1 Jets Drive as an understudy of Ravens GM Ozzie Newsome.
"Obviously, Joe is from Baltimore," said Andrew Perloff, a co-host with Maggie Gray of "Maggie and Perloff" on CBS Sports Radio. "He came up to me at this Eagles party once and said he's been a longtime listener of 'The Dan Patrick Show' [where Perloff used to work]. I don't think he was even telling the truth; I think he was just being nice — I just think that he's a people person.
"And the other thing is Robert Saleh. I just think those are two good people. There seems to be a common ingredient on most winning teams, that there are a lot of good people in the building that got along well. I get that vibe from Saleh and Joe Douglas, sort of builders of organizations."
It's Not Easy Being Green
The Jets and the Eagles each have rabid fan bases and share a jersey color in shades of green -- Gotham Green for the Jets and midnight green for the Eagles.
"I feel like the Eagles are the Jets of the NFC," Perloff said. "Obviously the green. Everyone hates Eagles fans and a lot of people hate Jets fans. Obviously, Jets fans are passionate in the same way that Eagles fans are and they're not politically correct about that, they'll yell and they'll scream and let their feelings be known.
"So we're national [at CBS Sports Radio]. But I work in the same office as WFAN, and there is a buzz about the Jets all the time."
He added: "You feel that energy in the streets in New York and you felt it in the office when the Jets got off this great start this year. When the team is winning in New York, it's unlike anywhere. In New York there's a lot of competition. So I think you need to win, or at least have the promise of winning to get attention. And this year, there's been a lot of excitement about the Jets."
A Jersey Guy
Tom Rinaldi has had a varied career in the media (ESPN and CNN/SI, among others) in addition to a spell as an English teacher in the Bronx. He grew up in Cresskill, NJ, and currently lives in Tenafly, NJ. Now with Fox Sports, he echoed an old adage that when New York teams are good, their sports thrive.
"The league is better when the Jets are better," said Rinaldi. "It's the New York, New Jersey, Connecticut market. It's the most densely populated part of our country. It's got a colorful history. It will forever have the wagging [finger] of the No. 1 running off the field and the mink coat of Broadway Joe. Just an enduring icon that made the NFL into a Jets story. So when the Jets are good and can tap into that it's a tide that lifts all boats."