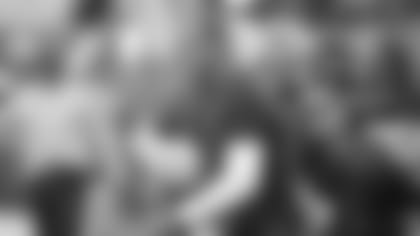 The Jets' hiring of Robert Saleh last month has garnered near-universal praise, including from trusted observers like Adam Schefter, a Senior NFL Insider at ESPN, and Saleh's former players like Richard Sherman.
"An impressive guy," Schefter told Eric Allen of nyjets.com about the 49ers' former defensive coordinator. "I love the guy. Very, very impressive. There are certain people who get it. And he gets it. He's on it. His players love him and I think the Jets' players will love playing for him."
Schefter added: "When I see Richard Sherman's posts about Robert Saleh it speaks volume. He [Sherman] has been around so many great coaches, he's been around the game so long, he knows the personalities and knows what it takes to win in this league. He's endorsing Robert Saleh and saying the things he says about him. To me that's meaningful."
The Jets landed Saleh amid a feeding frenzy centered on the native of Dearborn, Mich., who last season deftly adjusted after the defense in San Francisco sustained a series of injuries to key players like Nick Bosa, Sherman, Dee Ford and others.
"He wanted a head-coaching job," Schefter said. "He was talking to other teams. But in a game of musical chairs in coaching, you have to do what you can to find the right chair and the right spot. He looked at the Jets and he liked the front-office structure, he liked Joe Douglas, he liked Christopher Johnson. They wanted him. It's sort of like when you're dating, you date a lot of people and sometimes there's one that it just feels right. And I believe with Robert Saleh and the Jets just felt like it should be.
"In New York, they meet with Robert. They loved Robert. And there's the makings of the match."
Punter Braden Mann's Rookie Year Was a Kick
The Jets were clinging to a 23-20 lead with fewer than six minutes left in the game at the Los Angeles Rams on Dec. 20. Rookie punter Braden Mann's 50-yard kick was fielded by Nsimba Webster. Webster's weaving run seemed headed to the end zone and a possible Rams' victory, which would have consigned the Jets to an 0-14 record. But Mann, a former high-school linebacker, knifed in to make the tackle and help preserve the Jets' first victory of the season.
It was his fourth tackle (four off the team lead on special teams held by Matthias Farley) in defense of a punt during the 2020 NFL season.
"I hope I don't have to grow too much in that area anymore," Mann told Olivia Landis of nyjets.com about his tackling prowess. "I hope that era is over with. No tackles, no returns. I just felt like I made the tackles I had to make."
Mann, the Jets' final pick in the 2020 NFL draft out of Texas A&M, punted 82 times (the most in the league) last season, averaging 43.9 yards a kick (37.2 yards net) with a long of 60 yards (Week 8 at Kansas City). He landed 19 punts inside the opponent's 20-yard line.
Asked about his biggest adjustment from college to the NFL, Mann said: "Just knowing every single team you play will have one of the best returners in the world, knowing all those guys are dangerous and you have to try and control them the best you can. Just going into each game knowing you can't give them the ball too much or they're going make you pay for it."
For Jets, a Potentially Transformative Draft
With two picks (No. 2 and No. 23) in the first round, and five selections among the first 86 players chosen in the 2021 NFL Draft, the Jets are positioned to add a slew of young and hungry players.
"Where we are right now, the draft has the potential to be a turning point," said Dane Brugler of The Athletic on the NFL Draft Preview podcast with Ethan Greenberg of nyjets.com. "Draft capital, cap space and directions they could go ... it's going to be fun."
While the Jets have a lot of options, the club also has a lot of needs.
"The strengths [in the draft] line up well with the Jets' needs," Brugler said. "We know quarterback is a possibility, there are intriguing pass rushers late in the first/early second rounds, cornerbacks, offensive line is laden with players. Then there's another stacked group of wide receivers. The Jets are in position and don't have to trade up, though their needs will fluctuate between now and April depending on free agency."
He added: "We've been spoiled the last few years by top-tier rushers like the Bosas, but this year you don't have the guy."