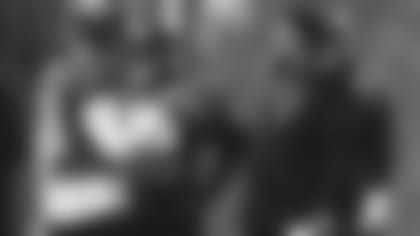 On Sunday at MetLife Stadium against Jacksonville, Ron Middleton will get to sample something he said he's wanted to do for a long, long time.
"I'm finally going to get a taste of it," Middleton, 56, said on Friday speaking about his opportunity to serve as the Jets' interim leader while HC Robert Saleh remains on the NFL Reserve/COVID-19 list. "I am very much so looking forward to this. Early in my career, that was the goal [to be a head coach], but as you age, your goals change, you take different paths. I've always wanted to be a head coach and I just appreciate Robert giving me this opportunity."
Middleton, 56, played tight end for five NFL teams from 1986-95 and began his coaching journey in 1997 as the tight ends coach at Troy. The assistant coaching careers of Middleton and Saleh converged, coincidentally, with the Jaguars from 2014-16. Saleh moved to San Francisco as the 49ers' defensive coordinator from 2017-20 while Middleton stayed in Florida to oversee the Jaguars' tight ends. When Saleh landed with the Jets, Middleton was also available.
"Ron has been in this league a very long time, obviously we want everyone doing their jobs," Saleh said on Friday. "Ron knows this league; he's an unbelievable man, in terms of philosophy and talking with him to bounce ideas off. He's been through the ringer. Plenty of guys on the staff qualify, I just chose Ron."
Middleton, the Jets' coaches and players have this past week navigated an obstacle course of injuries and virus -- particularly at safety and at guard. Backups (OL Dan Feeney and Greg Van Roten) and a couple of new signings (S Will Parks and Kai Nacua, among others) should all have opportunities.
"I was thinking about that [the vibe on the team] last night," Middleton said. "It's been smooth. The guys have been true professionals, the coordinators have been true professionals in their deal with the players, the equipment room, the training staff. It has been a smooth operation, which is kind of scary with everything going on and all uncertainty. People have been going about their business and it's been pretty good, very smooth. Scary, as I said."
Zach Wilson 'In a Great Place Mentally,' Saleh Says
With all the moving parts, all the changes and uncertainty, it would be easy for HC Robert Saleh and his staff to be concerned about how rookie QB Zach Wilson adjusts and deals with the situation.
"He is in such a great place mentally," Saleh said. "I wish you guys [reporters] could be there every day when we have all these conversations from Week 1 until now, he's in such a great head space. I think he's really understanding the concept of keep the main thing the main thing, and the main thing is him doing his job to the best of his ability, having great tempo, great footwork, great eye placement, and getting the ball where it needs to go and whatever the result is, it is. Is it a little bit more difficult because of the lack of continuity with all the different pieces coming in and out of the lineup? Yeah, it's difficult, but at the same time, his job is to do his best because, I promise, the guys who are getting the opportunity to play are going to give him everything they've got."
Even before this past week's surge in virus cases at One Jets Drive, Wilson was operating without two of his favorite receivers in Elijah Moore (quad) and Corey Davis (core muscle surgery). Now, TE Ryan Griffin (on Injured Reserve with a knee injury) is done for the season while WR Jamison Crowder (calf) did not practice several days this week. Wilson will also have to contend with the absences on the OL of rookie Alijah Vera-Tucker (Covid) and Laurent Devernay-Tardif (Covid), while George Fant (knee) has seen limited time in practice
"If he's worried about anything other than doing his job and getting the ball where it needs to go, then it could be a problem," Saleh said of Wilson. "I think he's in such a great space mentally, I think he'll thrive from this."
Preparing for Jaguars' Rookie QB Trevor Lawrence
Jets DC Jeff Ulbrich is facing a difficult task. Not only has his defense been nicked by injuries -- Quinnen Williams (shoulder) and Sheldon Rankins (knee) -- more than a dozen players were on the NFL's Reserve/COVID-19 list on Christmas Eve. And then there's the impending game against the Jacksonville Jaguars, and No. 1 overall draft pick Trevor Lawrence, at MetLife Stadium on Sunday.
On Thursday, Ulbrich acknowledged that it's a work in progress at the safety position, with Ashytn Davis and Sharrod Neasman on the Covid list and Elijah Riley in the concussion protocol. It's a group that is already without veterans Lamarcus Joyner and Marcus Maye, both out for the season. Although the Jaguars (2-12) have issues of their own (first-year coach Urban Meyer was fired a few weeks ago), Ulbrich knows that Lawrence, like the Jets Zach Wilson, has had his ups and downs during a challenging rookie season.
What is undeniable is that both young QBs have immense talent that is capable of bubbling up at any moment, either through the air or on the ground.
"You see a guy that, consistently I think, has improved as the year's gone on," Ulbrich said of Lawrence. "Definitely see some flashes of what you'd expect from a first-round pick, or first-overall pick. He's got all the arm talent that you'd want, and, which makes it way more difficult, the fact that he's such a big athlete."
Amid the coaching change and a weak supporting cast, Lawrence has sputtered in his last seven starts, throwing a single TD pass and 5 INTs and failing to throw for more than 230 years in a game since Week 8. But as Ulbrich acknowledged, the Jets' run defense has seen opponents rush more than 40 times in consecutive games, which might mean the Green & White may see less of Lawrence slinging the ball and see more of RB James Robinson.
Speaking of Lawrence (and Wilson), Ulbrich said: "I think sometimes those can be the most dangerous young guys, because if they don't necessarily completely understand the passing game and the defensive coverages that we're throwing at him, he's always got his legs to kind of bail him out as he starts to understand the game at a higher level. So, he's a guy that moves the sticks, he's a guy that can sustain drives because of his legs and his arms. But he's going to be a great challenge for us, he'll be a great challenge for the guys that we throw out there."