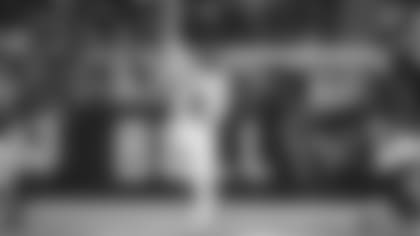 Jets 22-year-old rookie quarterback Zach Wilson has been learning from three Super Bowl champions of late -- one in person and two in the virtual world. While recovering from his PCL sprain, he eyeballed 36-year-old Joe Flacco's process throughout the week.
"Even if I could never ask him a question, just seeing how he goes through his process is probably the most beneficial out of anything is just seeing how he approaches practice and in certain plays, what his mindset is," Wilson said of Flacco, who was acquired in a trade with the Eagles in November. "I think just seeing how he thinks about something, for me, has been huge. … He does a really good job of making a very complex thing very simple. And so, I feel like I've learned a lot and just the way he approaches something. You can see the experience that he's had over his 14 years of just playing ball and how quickly he can eliminate. He's seen every look possible. So, it's cool to be able to just kind of hear some of those from him and just see how he plays ball."
Wilson watches films on other signal-callers throughout the season including Packers QB Aaron Rodgers and he went back to watch how Buccaneers QB Tom Brady dissected the Eagles defense in Week 6.
"I thought it was really cool to see kind of how [Brady] went through his whole process, how he navigated the pocket, different things like that," Wilson said. "Aaron is another one that we watch a lot of the time too. In season, I always try and do that. Just to be like, okay, here's what I'm doing. Here's what these guys are doing in the similar type of offense and what things stand out to me, what things that they consistently do each and every play to just be a quarterback."
In Wilson's return against the Texans last week, he threw for 145 yards, 0 TDs and an interception while completing 58.3% of his passes (14 of 24) in a victory. He wasn't pleased with his performance but was happy with his pre-snap reads as was OC Mike LaFleur. Gearing up to face a Philadelphia defense that is one of the league leader's in QB pressures, Wilson wants to be more decisive in Week 13.
"If I'm out there, we go to certain coverage, I'm looking at a route, how soon can I tell if that has a chance to win or not?" he said. "And then can I say yes or no quick enough and just be decisive and get off of it. The last thing you want to do is pass something up and it ended up being open. So, you have to be decisive. You got to be able to just make your mind up and move on and I think the coaches have done a really good job of just stressing that with me and making sure that process of just be decisive.
"If you pass it up and it ends up winning, then great, you learned for next time. That's been a big focus and I think I've improved a lot obviously since the beginning of the year in each and every single game, this week in practice specifically. So, now, it's just how can I apply that to the game and then just keep working each week?"
Morgan Moses: It's Not Easy Seeing Green (Across the Line of Scrimmage)
Jets OT Morgan Moses has seen green his entire career in the NFL.
Before being signed by the Green & White, Moses played seven seasons for Washington, where he faced the midnight-green clad Philadelphia Eagles dynamic defensive line two times a season from 2015-20.
"For the last seven years I've seen 91 [Fletcher Cox], 93 [Milton Williams] and 97 [Jason Hargrave] jetting up the field," Moses said. "They bring that lunch-pail mentality. They want their front four to win the line of scrimmage, get one-on-one. We've got to dominate and bring our own lunch-pail mentality. If we do that, the sky's the limit for us on Sunday.
"As a defense, they line up in gaps and jet off the ball. I know what they're made of. It's about a challenge, a challenge to win the line of scrimmage. If we do that, we can take care of business. After last week [a season-high 157 yards rushing], we're taking things in the right direction. It's a step forward."
Moses sustained a knee injury at Houston last week, was limited in practice early this week (taking off a knee brace "and throwing it across the field") before returning to full practice on Thursday. His "proper run-blocking technique by using his hands and driving with his feet to block the opposing defender" on Austin Walter's TD run against the Texans earned him the NFL Way to Play Award this week.
"It's a blessing to be honored for that win, that award, for the Jets organization and my family," he said. "Any time somebody sees you do good things it feels great because big uglies don't get any awards." He added: "It takes all 11 -- the right QB cadence, their safeties in the box, all five linemen working with the tight ends to grind it out; running backs setting up blocks and hitting it fast."
ST Coach Brant Boyer on Kicking Game: 'We've Got to Get Things Fixed'
The practice performance this week of two placekickers -- Matt Ammendola and Alex Kessman -- will determine who will suit up for the Jets against the Philadelphia Eagles at MetLife Stadium on Sunday.
"It all depends on what happens the next couple of days," special teams coach Brant Boyer said on Thursday. "Whoever it is, we have confidence in. You know, it's a competition in this league at every position and you have to be your best everyday. They both kicked really well the first couple of days, we will see what happens in the end."
Rookie Matt Ammendola has held down the job the entire season, but the Oklahoma State product has struggled recently and last week he missed on a 42-yard attempt early in the fourth quarter at Houston that could have given the Jets a 7-point lead. Houston later missed a field goal that would have made it a one-point game, and Ammendola acquitted himself when he converted from 37 yards out to basically ice the game.
"Sometimes you can get a bit out of whack with your technique," Boyer said of Ammendola. "He's an ultra-talented kicker and he just needs to convert when we need the points. He came through after he missed a kick and that's a really good sign, coming back and making one and not letting it [the miss] ruin his game."
Kessman, an undrafted free agent out of Pittsburgh, was signed to the practice squad this week and is being given a chance to win the job, for now.
See the Top Practice Images Leading Up to the Sunday's Game at MetLife Stadium Against the Eagles