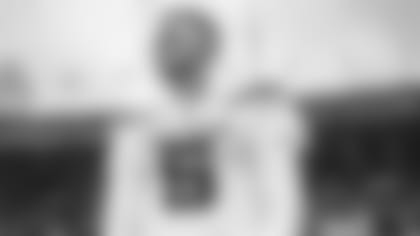 After two hellacious hits to his midsection, the second of which sent him to the locker room for X-rays, Jets quarterback Mike White said he was hellbent on returning to play at Buffalo on Sunday.
"At first, I was on the ground and couldn't catch my breath," he said on Monday, referring to the shot he took from Bills MLB Matt Milano late in the third quarter of the 20-12 loss. "Then I was able to walk off, [went to the locker room] to make sure and the X-rays were good.
"I knew they would have to peel me off the field. It was never in my mind to not get back in the game."
White, however, was not able to engineer a Jets comeback, facing a deficit that grew to 13 points early in the fourth quarter. But what he did, what he said he needed to do, was prove to his teammates that he's good enough and tough enough to lead them for as long as he can. He finished the game 27 of 44 for 268 yards, falling 32 yards short of his third-straight 300-yard game.
"The hits, that's the part of football that I don't miss -- it hurts," he said, referring to not only the Milano play but an earlier crunching tackle from Ed Oliver that sent him to the sideline for a couple of plays. "Part of it you do miss because you want to prove to your guys that you're willing to hang in there and take the hits, to move the ball and show them that you're willing to lay it all out there for them.
"I have watched those hits. The first one looked worse than what it was. I just lost my wind, then was back out there. The second one looks how it felt. It was a clean hit, he [Milano] had a running start and got me good. Yeah, it was a football play."
After the game, White went to the hospital for a scan that he said was simply to clear him to fly back to Northern New Jersey with his teammates. On Monday, he said that he was feeling well, just "not like 100 bucks, I just played a football game."
"I'm just kind of living on an hour-to-hour basis right now, just going where I'm told, being a good soldier," White said. "I'm waiting to hear more and cross the other bridges when we get there."
Though he wasn't able to lead the Jets back against the Bills, head coach Robert Saleh said that, for now, he hopes White being ready to face the Lions on Sunday.
"He's tough as nails man," Saleh said. "He got beat up a little bit and we all agree we could have played better on the offensive line and in the run game. But he stood in there, took his shots and delivered strikes and we were moving the ball well in their home stadium. Unfortunately, a couple of things derailed drives, but he was awesome."
Awesome enough to greet his twins, a boy and a girl, Monday morning, lift them out of their cribs and engage in a bit of spirited play on the floor.
"They are ready to roll in the morning," White said. "It's 24/7 chaos over there, and I love it."
The Jets hope that White is ready to roll come Sunday at 1 p.m.
Saleh: 'We Have Four Playoff Games'
At 7-6 with four games to play in the regular season, the Jets have one of the toughest remaining schedules: Detroit and Jacksonville (Thursday night, Dec. 22) at home; and road games at Seattle and at Miami. On Sunday night, the Chargers moved into the seventh and final playoff spot in the AFC and would advance to the postseason if it was a 13-game season -- which it's not.
"We have four playoff games," Saleh said. "Every team is fighting for a spot, every game is going to have major playoff implications. It's an awesome experience for this group and will make things that much more rewarding if we can get it done."
The Lions will come into MetLife Stadium on Sunday winners of 5 of their last 6 games after starting the season 1-6. Saleh again made it clear that he has the utmost confidence in his players and their ability to bounce back after consecutive road losses to teams that each have 10 victories, the Vikings and the Bills.
"You look at the two games with Buffalo," Saleh said about the season split with the top team in the AFC East. "They're a perfect example of a championship football team. We can be that, but it's how we get to the next step. In Game 1 against Buffalo, we were neck and neck in a defensive battle, got two takeaways. It's the little details. Flip to yesterday, it was a defensive battle, they get two takeaways. Little details.
"To get to the playoffs playing football in December, it's the details that separate teams. The encouraging thing is we can go toe to toe with anyone. This team can play with anybody and for this young team ... it's the details. Those are learned through reps, it's about gaining that consistency to execute in the fourth quarter, when it's really crunch time."
Injury Update
Saleh opened his encounter on Monday with the media talking about the players who sustained injuries at Buffalo on Sunday.
In addition to White, the head coach said that he would have a better answer to questions about the status of DT Quinnen Williams (calf) on Wednesday ahead of the game against the red-hot Detroit Lions while WR Corey Davis is in concussion protocol. Saleh said CB Brandin Echols (quad) and LB Marcell Harris (ankle) will miss the next game, and that Harris could be out for the rest of the season.
"He [Williams] had two sacks in a quarter-and-a-half," Saleh said. "The guy is unblockable, one of the best players in football." He added: "Chris Jones, Aaron Donald and Quinnen are three of the most dominant interior linemen in the game today. With Quinnen, it's just brute strength and he's up there with the best, for sure."
Before having to leave the game, Williams recorded his NFL career high 10th and 11th sacks of the season.
His ferocity and production have not been lost on teammate Carl Lawson, who compared Williams to Lawson's former teammate Geno Atkins (who had 75.5 sacks over 11 seasons) when they played for the Bengals.
"He's in that realm," Lawson said. "I played with Geno for years, and to consistently dominate it's not just beating people. He [Williams] knows how to set it up like chess pieces. He's up there with the elite, AD [Donald], Jones. Interior rushers are so valuable. To take over a game from the middle is a unique skill set in the NFL. You become a crazy chess piece when you can do it from the middle."