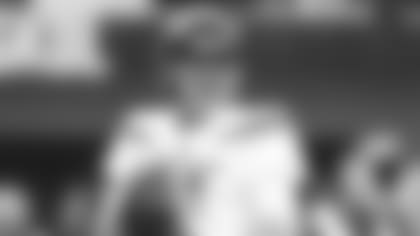 Scoring a single touchdown on six trips inside the opposition's 20-yard line is hardly a prescription for victory in the NFL. Yet, the Jets nevertheless came achingly close in Minnesota on Sunday.
"You can't win games kicking field goals," head coach Robert Saleh said on Sunday, referring to Greg Zuerlein's five field goals, which included a franchise-record 60-yarder.
During his weekly Monday press conference with reporters the coach drilled down a bit on the first of two pivotal fourth-down plays as the Jets fought valiantly to overcome a 20-6 first-half deficit, which turned into the final 5-point margin of 27-22.
Quarterback Mike White moved the Jets from their own 16-yard line to a first down at the Vikings' 4 with 2 minutes to play.
"First down we get the run [by Bam Knight] to the 1," Saleh said. "On second, we run again, they do a nice job penetrating the C gap and Bam fights to get back to the line [of scrimmage]. Third down was an RPO, handoff or a throw. We fell down on the play [when White and Garrett Wilson failed to connect in the end zone].
"On fourth down, you call your best possible play. We were working on it the entire game to find a way to get open, and we had a guy [Braxton Berrios] open. It just didn't work out. Any time something doesn't work, you want to hit rewind. We can second guess, but that was the play we were excited about. It just didn't work out."
Berrios got his hands on the ball, but simply could not get a handle. The Green & White had a final chance, but again a fourth-down pass within sniffing distance of paydirt did not connect.
In the red zone "it just comes down to execution," Saleh said. "Things we could have done better as a coaching staff and as players. Credit to them, they played situations well. There's always things we could have done better. It wasn't a good day in the red zone." He added: "We had five scoring drives, we were in the red zone six times, in scoring position seven consecutive drives. We were moving the ball well, giving ourselves a chance. We just couldn't punch it in."
Saleh was asked about his plans for Zach Wilson and whether the second-year quarterback would continue to be inactive or would dress at Buffalo on Sunday and serve at White's backup.
"It's going to be status quo, the plan is for him to still be inactive," Saleh said. He added: "Right now, he's doing everything right, putting in time in extra meetings and extra work after practice. Working on tying his fundamentals together. All his work is on the scout team playing quarterback and getting completions against our defense and regaining all his confidence. We know what he's capable of. The intent is to still get him back on the football field."
Pressed on the question of if he was open to White remaining the starter, Saleh said: "One week at a time."
Laken Tomlinson on Mike White: 'The Kid's a Tough Kid'
The left side of the Jets offensive line -- veterans Laken Tomlinson and Duane Brown -- seemed to speak in the same voice on Monday when they each had nothing but praise for quarterback Mike White -- his performance and his solid demeanor in a difficult game against the Vikings.
"He shows resiliency," Brown said. "We never want him to take hits and to see him never waver is real big. He took a big hit on a third-and-10 play and then he delivered on fourth-and-10 pass to Corey Davis. The play shows what he's made of. He never wavers and the team recognizes that."
Brown was referring to White's 31-yard completion to Davis to the Vikings 16-yard line with 3:47 to play in the game.
"For the offense to put up that kind of yardage and how well we executed, you'd think we came away with a win," Brown said. "Three or four plays were the difference. We critique ourselves harshly, but never lose confidence. We had a great outing against a good defense."
Overall, the Jets ran up 486 total yards. Perhaps what's more impressive is that 7 of 10 of the Jets' longest plays went for more than 20 yards and 4 went for more than 30 yards, capped off by Garrett Wilson's 60-yard catch and run in the fourth quarter. In contrast, Minnesota's longest play was a 38-yard Cousins pass to Jalen Reagor.
Tomlinson said that White never lost command of the huddle and was able to block out the boisterous atmosphere in U.S. Bank Stadium.
"He showed a lot of resiliency," Tomlinson said. "The kid's a tough kid to be able to go out there and play that type of game. The kid plays with a lot of poise, blocks out noise and focuses on his job. It's really great to have someone like him in the huddle.
"It was only one or two plays. We did an amazing job fighting until the end, in the fourth quarter making our way down to red zone again. We just have to look back. Could we have blocked a bit longer? All the things you question, you ask yourself what you can do to help win the game. It's what we study and will correct and prepare for next week [at Buffalo]."
Extending the 24-Hour Rule
DT Quinnen Williams, who had one of the Jets' two sacks (Carl Lawson had the other) of Kirk Cousins in the loss at Minnesota, had his own take on Monday when asked if he could flush away the 27-22 loss.
"A loss like that and losing in general, you can't just walk past it," Williams said. "We have to learn what we did wrong."
Williams' takedown of Cousins was his ninth sack of the 2022 season, a career high. The defense put together a solid second half, holding the Vikings to 7 points while the D-line got after the quarterback and the D-backfield -- led by cornerbacks Sauce Gardner and D.J. Reed -- mostly kept the lid on Minnesota's dangerous group of receivers.
"Man, I think our DBs are one of the best duos in the country," he said. "They did a phenomenal job with execution and communication. The defense as a whole, we have to take the step together, take our game to the next level."