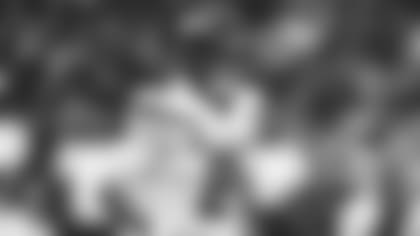 Jets rookie quarterback Zach Wilson was touted early on for his off-schedule ability to make plays. And that's exactly what he did at Houston on Sunday when he scampered 4 yards to his first NFL rushing touchdown. The score midway through the third quarter gave the Jets (3-8) a lead they never relinquished in the 21-14 victory and caused head coach Robert Saleh on Monday to marvel at Wilson's savvy.
"His ability to move off-schedule, some of the stuff, the improvisation are impressive," Saleh said. "The ball was designed to go to the running back, but as he was about to hand it off, he saw that the Texans had loaded the box. He pulled it and made something happen. Good for him. It was pretty cool."
Wilson returned as the starter for the Green & White after missing four games after sustaining a PCL strain at New England on Oct. 24. The BYU product said he felt tweaks a couple of times in the game and dealt with a bit of rustiness early on. Though he was 6-of-12 passing for 44 yards in the first half, he calmly engineered a series of long drives and kept it simple, finishing the game 14 of 24 for 145 yards.
"When you are young, it's one thing to see tape, go out and practice," Saleh said. "It's a whole other thing for it to come at you at 100 miles per hour, so there's a trust factor. It's there, you know it's there, but you're just not ready to pull the trigger. The more you see it, the more looks he gets, the faster he gets going. That's just part of being young."
When Wilson tweaked his knee in the second half and went to the sideline after an aborted scramble, there was definite concern on his face and among his Jets teammates. But Wilson rebounded and went back into battle.
"He's tough as nails," Saleh said. "He was trying to play against Buffalo and then against Miami. But we wanted to take an extra couple of weeks to get him fully healthy. He's not going to be denied. He wants to play. His desire to get better is high. He works at it, hard."
After Sunday's game, Wilson did not mince words, praising the play of the offense and defense while also giving himself less-than stellar marks. Refreshing honesty and a commitment to improve. His coach loves it.
"I love that he's hard on himself," Saleh said. "His desire to get better is up there with anybody. He works his tail off. It's also the coaches who are hard on ourselves. Our job is to help him get better. Was it his best game? No? Did he get comfortable? Absolutely. He executed two 13-play drives, and an 8-plus-play drive. He orchestrated three long drives and did enough to win the football game."
Run Game Gets It Going
The Jets' offensive line led the way as a triumvirate (Tevin Coleman, Ty Johnson and Austin Walter) of running backs (with a few added yards from Wilson and backup QB Josh Johnson) gained 157 yards on the ground -- the most in a game since gaining 206 yards against the Raiders in Game 12 of the 2020 season and the most on the road since amassing 169 yards at Detroit in the 2018 season opener on "Monday Night Football."
"That was just us as on the O-line being on our targets," rookie LG Alijah Vera-Tucker said. "We knew their linebackers like to shoot through gaps. We were able to run downhill and to take advantage of that."
Vera-Tucker, a first-round pick out of USC, has so far this season played every offensive snap through 11 games. With Mekhi Becton out injured, Vera-Tucker has forged a strong tandem with George Fant on the left side. And for the second straight game Laurent Duvernay-Tardif took over at RG and played next to Morgan Moses.
"I've been playing with George basically all season," AVT said. "We know how each other works. On the left side we tried to do the job, same on the right side, too. Overall, the O-line worked really well together. We're excited about that."
AVT, speaking about LDT, added: "That guy, I talk to him a lot out of the room and outside the facility. He's a great dude, always on his stuff. He's been in the league for a while, a real vet, playing for a Super Bowl team [Kansas City]. I pick his brain, ask him little questions. I'm impressed that he's picked up on the playbook pretty well so quickly."
Ryan Griffin Bullish on the 'Rookies'
Running back Michael Carter said it recently. So did WR Elijah Moore. AVT echoed those words on Monday.
The Jets collection of promising rookies don't feel like rookies -- what's more, they're not playing like rookies. Certainly not after 11 games.
"I think, definitely right about this point with the amount of games we've played, it definitely doesn't feel like we're rookies anymore," Vera-Tucker said. "Us being out there, we're more comfortable with the speed of the game, working in sync, which is a great thing to see. It's a great part of what's going on."
TE Ryan Griffin, who nearly snagged a low pass from Zach Wilson in the back of the end zone, has been in the league since 2013 (playing his first six seasons with the Texans), said that he's impressed by the rookies, and the Jets' other young players.
"There's a hunger to get better," Griffin said. "They say we're a young team, but I've been around young guys who don't really get better, but not this team. I'm really impressed with the guys, they're learning and willing to put their bodies on the line, willing to put in the time. These are high-character guys, especially this rookie class. I'm really excited to see what's to come for this class and this Jets team."
Jetcetera
The Jets play three of the next four games at MetLife Stadium, starting on Sunday against the Eagles (5-7), who will be playing their second straight game in East Rutherford; the Saints (5-6); at Miami (5-7); and vs. the Jaguars (2-9). ... TE/FB Trevon Wesco will miss 2-to-4 weeks with an ankle injury. ... WR Corey Davis (hip) is day-to-day. "He had two live periods [on Friday], not a lot of running," Robert Saleh said. "He ran a couple of routes but didn't like how it came out. On Saturday he wasn't feeling it, so we shut it down." ... WR Denzel Mims(finger) was ramping up his preparation last week and could be available to face the Eagles on Sunday. ... Saleh said that LT Mekhi Becton, who hasn't played since Week 1, is back working on the field. "Field work is a big step as he works through getting back into football shape. We'll see how he progresses to determine when he'll be back at practice."