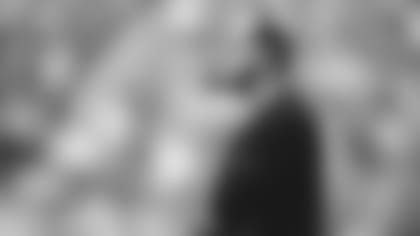 The Jets have a little more than a week to deal with a handful of issues, with the question of who will be under center on New Year's Day at Seattle first and foremost. On Friday, head coach Robert Saleh said he was not prepared to make a decision, and in fact did not have to make a decision now.
Zach Wilson? Mike White? Joe Flacco? Chris Streveler?
"We've got time," Saleh said. "We got today, the weekend, Monday and Tuesday. So, we're just going to let that play out. I don't know any times or anything like that."
The questions during Saleh's call, no surprise, focused on Wilson -- the No. 2 overall pick in the 2021 NFL Draft -- who was lifted from the 19-3 loss to Jacksonville on Thursday night and replaced by Streveler. Wilson, who sat out three games while going through a "reset," in Saleh's words, was 9 of 18 for 92 yards. During his reset, White stepped in and played well until sustaining bruised ribs at Buffalo, which cost him the past two games.
"Again, as I said, I'm not prepared," he said. "I'm trying to utilize time, but you can make a case for everybody on the entire roster on giving them opportunities. There is still a lot to look forward to with this season. Thinking playoffs is farfetched, but at the same time, we've done a lot of really, really cool things this year and the most important thing right now is finishing strong, which starts with Seattle. You can make a valid argument for everybody."
As he nears the end of his second season in charge of the Green & White, Saleh said he still believes in Wilson and his potential.
Asked if Wilson's performances in the past two games were concerning, Saleh said: "It is, because you know the quarterback is the head of the snake. You want the head of the snake to be stable, and we just haven't been able to. I'm responsible for it also, it starts with me, and there are things that we can do better for Zach, there's things that we can do better for Joe Flacco, there's things we could've done better for Mike White.
"There's things we could've done better as a collective. Part of that is us as coaches, whether or not we want to commit to it and make it part of our stable and part of our identity. Part of it is just not getting the job done from an execution standpoint. Part of it is schematic on our part in play design. It's an all-encompassing thing, it's not any one person to look at and try to blame people. It's look at the collective whole, and find out what the answers are and do our best to address it."
He added that he's not prepared to give up on Wilson, or any other player on the team. And perhaps it's only a coincidence that the Jets next face a Seahawks team that has been successful with quarterback Geno Smith, a Jets draft pick, who is only now coming into his own after nearly a decade in the league.
"I don't know how many years I've been in the league now, it's been awhile, but I just feel like every single year there's a kid who's just struggling, and everybody wants to quit on him, and this might not be their year, but it doesn't mean that next year can't be their year," Saleh said. "That's everybody on the roster, and as long as that person is wearing a Jets uniform, we're going to do everything we can to put our hearts and souls into these kids. Now, the best players will always play, that's how we stand, but at the same time, as long as they're here, as long as they're playing for the Jets, we're going to pour everything we can to help them be the best version of themselves they can be. And if that best version earns a spot on the field, then that will happen."
'Run Game Has Been Putrid'
Saleh did not mince words about a rushing attack that has gone missing over the past month. Take away the 54 yards gained by Streveler on Thursday night, and the Jets totaled 12 yards combined from four players.
"Our run game has been putrid the last couple of weeks," Saleh said on Friday. "Part of it is the coaches, part of it is not getting the job done in terms of execution. It's an all-encompassing thing. There's not one person to blame, people have to look at the collective whole."
Streveler, who was elevated from the practice squad for the Jacksonville game, entered in the third quarter with a package of plays designed for him to boost the run game and create possibilities in the pass game.
"There was a stretch where we ran the ball pretty well," OC Mike LaFleur said. "Green Bay, Denver, Buffalo, even Minnesota. But the last three weeks have not been acceptable on all levels. It's about putting guys in position to get going, executing fundamentals. The offense, we have to get it fixed today and yesterday."
8 Minutes, 96 Yards
The Jets defense limited the Jaguars to a single touchdown to go with four field goals. But that lone TD drive that burned 8:15 off the clock in the second quarter was "not acceptable by any means," according to DC Jeff Ulbrich.
On the drive, Jacksonville faced a single third-down play, and that was the third-and-goal from the Jets' 1-yard line that was the 16th and final pQBTrevor Lawrence's dive into the end zone.
"They got us with a lot of dink and dunk, screams and bubbles," Ulbrich said. "We were not setting good enough edges, not pursuing like we have. leaky in the run game. A lot of stuff. Absolutely not our standard to give up a 96-yard drive."
The defense, which has been one of the Jets' strengths through most of the season, got its first takeaway (Quinnen Williams' strip sack of Lawrence on the game's first series) in five games and allowed only two passing plays of more than 20 yards.
Asked if he thinks opposing offenses have figured out how to play against the Jets, Ulbrich said other teams are trying to avoid the strength of his defense -- which is an aggressive push up front.
"I wouldn't say it's weakness, it's more of trying to avoid our strength," he said. "When you drop back on us it's a problem because the defensive line is rushing at a high level and the back end has been doing a good job. We have a foundation and we have a philosophy about not giving up explosives. It's a big part of who we are. If an offense is patient enough it will make some yards. We believe if you try to walk up and down the field on us you're not going to be successful. If that continues to be a trend ... it's the negative of the style of play we play at times."