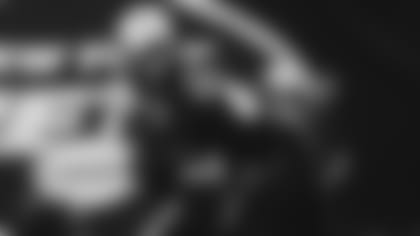 In the nearly 24 hours since the Jets' 22-17 loss to New England on Sunday, the sting perhaps obscures a robust effort by the defense. Save for one play, one penalty that likely altered the course of the AFC East clash at MetLife Stadium, the defense yielded one touchdown and five field goals.
"We got to do more as a defense, we got to get them the ball more, we got to get sacks, forced fumbles, we got to get interceptions," said Jets DT Quinnen Williams, who had a sack to increase his season total to 6, equaling his total from last season and one less than his NFL career high of 7 in 2020. "We got to do more as a defense to put the offense in a better position to score points and kick field goals. So, as a defense, we got to go in and look at the film, watch the film and see where we can take our shots to do even more."
The defense spent 35:34 on the field (by comparison, the Jets had the ball 24:26), faced 75 plays (to the Jets 58) and allowed the Patriots (4-4) three drives of more than 10 plays while also taking the field six times when New England drives began in Jets (5-3) territory. Still, the defense sacked Mac Jones 6 times, which included rookie DE Micheal Clemons' first NFL sack.
"I thought we played well," CB D.J. Reed said. "We didn't do a great job stopping the run, but I thought as a whole defensive unit, we did well. We were in the strike zone a lot. I know we were down on the field a lot, so I thought we regrouped, we did well. When they did score coming out, I thought we did a great job regrouping, executing our game plan, I thought we played well."
As Reed mentioned, New England rolled up 127 rush yards, with the longest carry by Rhamondre Stevenson (35 yards). The Green & White defense did limit the visitors to a 31.6% conversion rate on third down, but on an early scoring drive, New England converted a series of third-down plays that kept the defense on the field.
"They [New England] did a good job with some of the late-developing concepts, crossers that ended up turning into almost screen-like," Jets HC Robert Saleh said. "I thought the defense did a really nice job settling it down. I thought we played pretty well in the second half on defense except for that one run to start the second half [Stevenson's 35-yarder], but it wasn't enough. We have to play better."
Penalty Led to a Swing
The Jets committed 4 penalties for 41 yards in the game, but a 15-yard roughing-the-passer call pinned on DL John Franklin-Meyers changed the game's momentum. The flag nullified what would have been Michael Carter II's second interception of the first half.
With 37 seconds remaining in the second quarter and New England on the Jets' 25-yard line, with New York leading by 10-3, a pass by Jones intended for Tyquan Thornton was snatched by Carter II at the 15 . He rambled down the far sideline for an apparent TD, which would have given the Jets a two-touchdown lead. It was not to be, and the Patriots' Nick Folk converted a 42-yard field goal as the half expired.
"Ten-point swing," Saleh said. "It ended up being 17 if you count what happened in the second half. It was a costly penalty."
Saleh added: "I don't know if it was deflating. We stalled a little bit on offense. They had the good drive coming out. Credit to them. Other than that, I didn't feel like they were able to do what they wanted from a defensive standpoint. Offensively, we just kept shooting ourselves in the foot and not allowing ourselves to continue drives and stack together consecutive good plays."
Franklin-Myers, who had three tackles and a sack in the loss, was asked about the flag.
"They called it, my opinion doesn't matter," he said. "I mean an explanation isn't going to reverse the call, so we got to move on from that and play football. We had a whole other half, so it is what it is. It happened and we got to move on from that as a team. I think they did a good job of lifting me up and the team did a good job bouncing back from that.
"If I don't get [to the quarterback], it's a problem. If I get there, it's a problem. I ain't going to play any slower."
For Carter II, after his long run to the end zone, he looked up at the stadium's videoboard to see a flag had been thrown.
"Dang, that was my first touchdown [in the NFL]," he said.
Braden Mann's Soccer Move
When the Jets scored on a pass from Zach Wilson to TE Tyler Conklin (6 catches, 79 yards) with 1:56 to play, making the score 22-17, punter Braden Mann was called on to try his second onside kick of the season. His first effort at Cleveland was recovered by Justin Hardee, which led to the game-winning TD drive.
On Sunday, Mann altered his technique, using a move that is more familiar to soccer fans and is called a rabona. The technique is where the kicking leg is crossed behind the standing leg. The rebona originated in South America, either Argentina or Brazil, and has also been called a crossed kick. Mann's effort against the Patriots, however, was recovered by Jabrill Peppers.