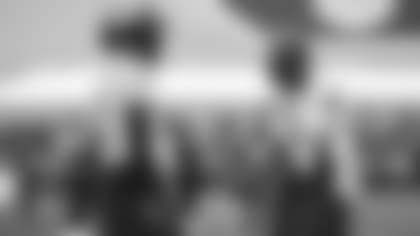 As he prepares for his third season with the Jets, senior defensive assistant and cornerbacks coach Tony Oden has a warning for the rest of the NFL as it applies to sophomore CB Sauce Gardner: "People think they saw a great player last year. Now there's going to be a little something extra."
That's as far as Oden was willing to go in his chat with team reporter Eric Allen on "The Official Jets Podcast." "We got a couple of things I can't tell you about."
Having just turned 50 and with 20 years of NFL experience behind him, Oden knows he's got someone special at cornerback, playing across the field from veteran D.J. Reed. And Oden said he knew of Gardner's specialness from the get-go.
"We hit it off immediately," Oden said. "We brought him here and he had dinner with me and Coach Ulbrich [DC Jeff Ulbrich] and his son. I got to watch them connect. He gave a high school player his genuine attention and showed interest. From then, there was no doubt in my mind he'd be successful."
That was after Gardner was drafted No. 4 overall by the Jets in the 2022 NFL Draft and before the Cincinnati product won a trifecta of awards after last season -- Defensive Rookie of the Year, All-Pro and a Pro Bowl selection.
"When you select a guy with that pick, he has to be the right person," Oden said. "You're entering into a relationship that's like marriage, you have to be able to work together. We have to learn more about each other as men, what he wants out of life.
"If the man is right, the football is going to be right. You want to see him around other people in the building and how they respond to him, how he treats them. You want the right person."
Even more than his prowess as a player, Oden said that Gardner has more, much more to give as he gains experience.
"He's smart. He's a problem solver," Oden said. "Who are guys who can problem solve on the field and recognize things quickly before they get to the sideline?"
After cutting his coaching teeth on the collegiate level early, Oden landed with the Houston Texans and was allowed to bring in an assistant. The guy turned out to be the current Jets HC Robert Saleh.
"There was no one else I wanted to bring in other than him," Oden said about Saleh, who he encountered when Saleh was a graduate assistant. Saleh became the Texans' quality control coach on defense. "He came in and did an awesome job. I left to go on to New Orleans [and was with the Saints when they won Super Bowl XLIV]. He stayed there and got better and better and better.
"They were able to see what I saw and what others saw -- that he was a star in the making."
RB Dalvin Cook Is on the Jets' Radar
Earlier this month, HC Robert Saleh carefully chose his words when asked about running back Dalvin Cook, who was a salary cap casualty and is now a free agent.
"We'll turn the stones over on that one," Saleh said, referring to the former Minnesota Vikings star.
Cook, who last season rushed for 1,173 yards (4.4 yards a carry) and 8 TDs, remains one of the most attractive free agents still available as June is about to turn into July.
According to Ian Rapoport of NFL.com, the Jets are among several teams pursuing Cook.
"He's got a couple of different offers," Rapoport said on NFL.com. "I know there are several interested teams. Among those to keep an eye on, the Miami Dolphins who did inquire about potentially trading for him; the Denver Broncos, who did the same; and the New York Jets, who could view him as the final piece for a Super Bowl contending team that of course now has [QB] Aaron Rodgers."
Cook is an interesting dual-threat RB. He played in 73 games for the Vikings since being drafted in the second round (No. 41 overall) in the 2017 NFL Draft. For his career, he has rushed for 5,993 yards and 47 TDs. As a receiver, Cook had 39 catches for 295 yards and 2 TDs.
Jeremy Ruckert Is Going to Be 'a Household Name'
Long Island native Jeremy Ruckert, the former Ohio State tight end drafted by the Jets in the third round (No. 101 overall) in the 2022 NFL Draft, turned some heads during the recently completed OTA sessions at the Atlantic Health Jets Training Center.
"I'm excited about Ruck," HC Robert Saleh said. "You know, I never want to put too much stock in OTAs because I've found a bunch of bobbleheads running around with helmets on, no pads, but Ruckert was battling a year-long foot injury that he had, so he's healthy.
"He's really attacked the offseason. He looks fluid. He looks athletic. I would say I question the pads part, but if anyone watched that last game of the year [at Miami] when he flat-backed a couple of guys in that last game of the season — I think he's very physical. He has a physical mindset to him, so I'm excited for him to get pads on and continue to pick up where he's left off here in OTAs."
Ruckert is part of a crowded tight ends room, which includes two free-agent signings last year -- C.J. Uzomah and Tyler Conklin -- plus Kenny Yeboah (who spent most of last season on the practice squad) and seventh-round pick Zack Kuntz, who has impressed with his size (6-7) and speed.
Ruckert saw action in only 9 games last season, making a single reception in the 11-6 season-ending loss at Miami.
"We've talked about what he put on tape in the Miami game," TE coach Ron Middleton said. "He was outstanding. That performance going into the offseason really put him in a great place mentally. He has visual evidence that he can do this and do it at a high level. He's only scratched the surface that he can do all and has all the makings. We've got to keep him healthy. Before long, he's going to be a household name."
See the best photos of the Jets 2023 tight end group.