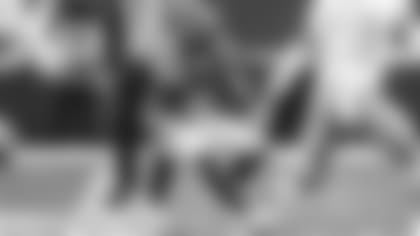 The Jets expect to get a handful of injured players -- RB Michael Carter, CB Michael Carter II, TE Tyler Kroft, DL Bryce Huff and RB Tevin Coleman -- back to face the Dolphins in Miami on Sunday. But perhaps the best news is that DL Quinnen Williams will also be available. Coach Robert Saleh also said that rookie WR Elijah Moore was disappointed to be put on IR (which means he must miss three games), but that his quad injury was not responding to treatment. Saleh said he expects Moore to be ready and available for the final two games of the regular season (vs. Tampa Bay and at Buffalo).
Williams appeared to jam his left shoulder into the MetLife Stadium turf on the first play of the third quarter with the Jets trailing the Saints, 13-6. Williams and the team's training staff quickly headed to the locker room and it was easy to expect the worst. But Williams not only rejoined his teammates on the sideline, he returned to action and finished with 3 tackles and 1 TFL in a 30-9 loss. It was a great example of commitment and a display of professionalism.
"It doesn't surprise me what Quinen did," Saleh said on Monday. "I look at Quinnen as an old-school-type of player. There's an excitement to be on the football field with his teammates. It seems like some of the new age guys are not built like that. Teams that win championships have a bunch of those guys on the roster, and it was good for him to show that."
Williams, in his third season with the Green & White, finished the game and by his sheer presence and determination sent a message to his coaches, teammates and the entire Jets organization.
"I landed on the ground and really knew something could be potentially bad because of the pain I was getting," said Williams, who is the Jets' nominee for the Walter Payton NFL Man of the Year Award. "I got into the locker room and let it [the shoulder] calm down a bit. I knew we had an opportunity to win the game and I knew I had to play a big role. I knew I'd be able to do my job once I got to the training room and listened to the doctors. They gave me the option to go. I knew in my head I had to finish this game."
Williams leads the team in sacks, with 6, and has emerged as one of the hearts of the defensive line after a stellar career at Alabama.
"It just validates everything I've thought about him," DC Jeff Ulbrich said. "He was going to play no matter what. Not only did he come back with an injury, he played and he played well. He's going to be a big reason that we turn this thing around."
Saleh on Zach Wilson: 'It's Getting Better'
Like so many rookie quarterbacks in the NFL, Zach Wilson is enduring the ups and downs of his inaugural season as a professional. On Sunday, missing his top two targets -- Corey Davis and Elijah Moore -- because of injury, Wilson had his tempo and footwork down, but fell short, according to Saleh, when it came to his eyes.
"There's a lot of the things he learned just watching our three other quarterbacks," Saleh said, referring to the month Wilson was out with a PCL strain. "Yesterday the tempo was good, his decision-making was fine, but his eyes were out of whack and that lead to some accuracy issues. Extending plays and his scrambling were good. His decision-making the last couple of weeks ... it's getting better."
Though his stats against the Saints (19 of 42 for 202 yards without a TD or INT) were modest, on Sunday the coach said there have been intangibles that might not be as obvious to others, but are clear-cut to him and the rest of the Jets' coaching staff.
"He's the future of this organization," Saleh said in no uncertain terms. "He's the number two pick taken in the draft. He's got a good head on his shoulders. These are the types of games he has to go through to learn to play in the NFL and get the reps. He is only growing, he's getting better, the [offensive] line is working better around him and Mike [OC Mike LaFleur] is growing as play-caller."
The Kicking Game
Kicker Eddy Piñeiro did what he's supposed to do in Sunday's loss to the Saints. Piñeiro, a Miami native who is the son of a Cuban father and Nicaraguan mother, converted all three of his field-goal attempts in his first game in green and white.
"It was fun to be out there," Piñeiro, 26, told team reporter Ethan Greenberg after converting from 36 (twice) and 46 yards out. "Great snaps, great holds. It was fun."
The Jets' pursuit of consistency from a kicker has caused the team to employ three different kickers the past three games -- Matt Ammendola (who was recently signed to the practice squad), Alex Kessman (who missed his two extra-point attempts against the Eagles) and now Piñeiro (whose father played professional soccer and who originally accepted a soccer scholarship from Florida Atlantic, later kicking at the University of Florida).
He kicked for Chicago in 2019 when the Bears played the Jets at MetLife Stadium and Piñeiro said that Sunday's early swirling wind was a concern, until the breeze "died down" in the second quarter.
Piñeiro, an undrafted free agent signed by Oakland in 2019, joined the Jets after stints with the Bears, and quick stops in Indianapolis and Washington this season. His career long regular season field goal, for Chicago, was from 53 yards. In his career he has converted 23-of-28 field-goal attempts (2 of 2 from 50+) and 27-of-29 extra-point attempts.
"This is a great opportunity and I'm super grateful for the Jets to give me an opportunity to be here."
Punter Braden Mann had his best day back since he sustained a knee injury in the Week 1 game at Carolina. He returned for the Week 10 game against Buffalo and on Sunday the second-year man out of Texas A&M had his best outing of the season, averaging 52.2 yards per punt including a long of 60.
JetceteraHC Robert Saleh said that Jets players and coaches would not be together indoor in the same place "until we get on the plane for Miami" on Saturday. He pointed to recent spikes in positive cases of COVID and illness around the league. "You saw what happened to the Lions," he said, referring to Detroit's seven positive cases before its game against Denver. "We decided to go all virtual this week for meetings. There's no sense in stuffing everyone in a meeting room right now." Both RB Austin Walter and DL Ronnie Blair missed Sunday's game due to illness.