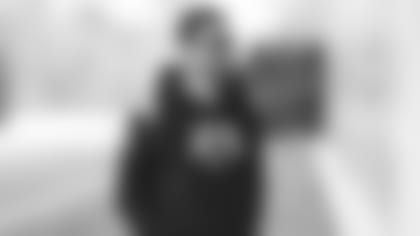 The Jets got their man -- the elite veteran quarterback Aaron Rodgers -- in a long-awaited trade with the Green Bay Packers. And the team's former linebacker Bart Scott could hardly contain his glee.
"Sweet music," he told Eric Allen on a special edition of "The Official Jets Podcast." "I've been waiting for this to happen, anticipating it was going to happen, knew it was going to happen. A deadline [the start of the NFL Draft on Thursday] breeds action. We had our soft deadline at the start of the draft, the hard deadline was probably the second day of the draft on Friday. Green Bay wanted its [draft] compensation this year."
The deal that came to fruition after more than a month of speculation shook out with the Jets and Packers swapping first-round draft picks this year (the Jets going from No. 13 to No. 15), a switch of fifth- and sixth-rounders, and the Jets giving up two second-rounders, with next year's second-round pick becoming a first-round pick based on Rodgers' playing time.
Opinions among analysts, the media and fans may differ. But Scott is positively bullish about the deal.
"It's what we thought it was going to be," Scott said. "We gave up a second this year and conditional first, which will probably be a late first-round pick because we expect Aaron Rodgers, who's been durable, I anticipate him playing more than 65% of the snaps. No. 13 to 15, they'll still get anybody they want. If not, I can see them trading back to get more draft capital."
The pre-draft speculation has the Jets targeting an offensive lineman in the first round, but. ...
"There are four in this draft on the A list," Scott said. "There's probably going to be a run on corners. I can't see four linemen getting picked in the first 15." He added: "There will be opportunities for the Jets to make moves if certain players drop in the draft."
Rodgers comes to the Jets after 18 seasons playing in northeastern Wisconsin and after nabbing back-to-back MVP awards, in the 2020 and 2021 seasons. Last season, which some people said was a down season, Rodgers still threw for 3,695 yards (a 64.6% completion rate), 26 TDs and 12 INTs -- while playing with a hand injury. Those numbers would equal or surpass the stats of nearly any quarterback in Jets history.
"The Jets get a jedi," Scott said. "They get a guy who's so sophisticated, so advanced as a quarterback and into the nuances of playing the position. He's going to catapult them to top of the division. [The Jets now have] more than a fighter's chance to win the division. It makes them formidable, a true contender in the division.
"He's cerebral. You think about the guys who have played late in their careers and he's flourished. He's one of them. He knows all the tricks, he can smoke you out. He's one of the most athletic quarterbacks under center. He beats you with his mind and body. He still has a lot more juice in his body. He's a mobile quarterback who may have lost a step, but he's still more mobile than your typical drop-back quarterback. He can hurt you in multiple ways. He doesn't turn the ball over."
As Rodgers joins the Jets he will encounter some familiar faces, such as offensive coordinator Nathaniel Hackett, who he worked with in Green Bay, and wide receiver Allen Lazard. In addition, Jets GM Joe Douglas, through past drafts and the coming draft, has deftly rebuilt the roster with young and talented players like offensive and defensive rookies of the year (WR Garrett Wilson and CB Sauce Gardner) and RB Breece Hall. Douglas has added depth on the OL by signing Trystan Colon and Wes Schweitzer (while getting back from injury Duane Brown, Mekhi Becton, Max Mitchell and Alijah Vera-Tucker). The team has also re-signed veteran center Connor McGovern.
"The Jets are going for it right now, not rebuilding, not waiting for a young quarterback to develop," Scott said. "The pieces we have are good enough to compete for a championship. This is a winning play. And he draws the attention of good players to the Jets. One of the biggest things Aaron Rodgers gives you, it says to guys that it's more about winning than the money. "
He added: "He brings instant credibility, a belief they can play at a high level. And if Joe D. knocks the draft out of the park again, you've got a lot to celebrate in this New York area. This is the beginning of a turnaround for the Jets. I believe in Joe D."
Rodgers Bids Farewell to Packers and Fans
QB Aaron Rodgers, who will be introduced by the Jets on Wednesday, took to Instagram to thank the Packers and their fans before boarding a private jet bound for New Jersey.
"I'm not sure it's possible to fully express the gratitude that I have to the @packers , our incredible fans, the state of Wisconsin, the thousands of players that I crossed paths with, the incredible men and women who work for the organization, and the amazing people who I got to meet along the way, but I hope you read this and feel my heart and soul, filled with love, joy, and peace about my time in green and gold. 💚💛
"I grew up in Green Bay, drafted at 21, fell in love with the game, met some lifelong friends, and take with me memories that will last a lifetime. I'm grateful to the late Ted Thompson for drafting me, for my head coaches, especially the 13 years with Mike McCarthy, and the last 4 with Matt LaFleur. I had some incredible men to work with in the QB room over the years."
After issuing some personal thanks to various people he continued:
"To the fans, THANK YOU, you made every run out of the tunnel special, every home game magical, and it was my honor to be your QB. To my teammates, I love you all, and am thankful for the moments on and off the field that brought us close. I played with legends, I played with friends; thanks for believing in me and having my back always ❤️."