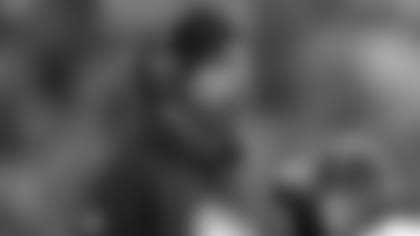 Jets head coach Robert Saleh is not one to shirk responsibility -- for anything -- and on Monday he was true to his convictions when he said that his time management on his team's final drive on Sunday caused him to have "about a half-hour of sleep last night."
After Detroit took a 20-17 lead, the Jets had the ball at their 25-yard line with 1:49 to play in the fourth quarter, holding a full complement of three timeouts. Saleh called the first timeout after QB Zach Wilson was sacked for an 8-yard loss at the Jets' 40 with :25 seconds remaining. After an incomplete pass on third-and-18, Wilson scrambled out of the pocket and connected with Elijah Moore for 20 yards and a first down at the Lions' 40. Timeout No. 2 was called with 1 second left. Greg Zuerlein's 58-yard field-goal attempt, however, was wide left to end the game.
In his Monday morning call with reporters, Saleh conceded that he needed to do better.
"Garrett [Wilson] catches the ball for a 10-yard gain," Saleh said, referring to the third play of the drive. "This is the one where I definitely overthought the situation, that's the one where I definitely over thought it -- call a timeout, it's 49 seconds left.
"I felt like we got the better end of a spot [on G. Wilson's first-down catch], and I was trying to beat New York on a challenge, and that's the one I overthought. It didn't matter, we're not playing for downs in this situation, we're playing for time, and when you look at it all I definitely probably cost us one more snap in that transaction. So, something that I definitely need to be better at it, definitely overthought it, and wish I could have that one back. The rest of the game played out the way it did."
Saleh's candor was not lost on rookie cornerback Ahmad 'Sauce' Gardner who said that his coach's nature as a stand-up guy was not lost on the locker room.
His accountability "has a huge impact on us," Gardner said on Monday. "He's not just like a coach, I feel like one big thing about this organization is that it's like family and what he does we all watch it. It's not just going to a veteran player, we watch the way Coach Saleh carries himself. For him to take responsibility in public ... that's big. Most coaches would just try to cover their behinds. It shows he's a great leader, for sure."
Assessing Zach Wilson's Game
With Mike White sidelined because of a rib injury sustained at Buffalo, Zach Wilson returned as the starting quarterback on Sunday after being inactive for the past three games. Saleh admitted that last year's No. 2 overall draft pick had his ups and downs in the 20-17 loss to the Lions.
"The frustrating thing ... this kid's going to be a good quarterback," Saleh said. "The NFL and this new instant coffee world that we're in just does not want to give people time. So we look at him and he's just nitpicked with a fine-tooth comb. Everything that he does, and rightfully so. He did a lot of really good things, so we're going to try our best to focus on things that he did well and make sure we bring that to life and continue to work on things that he needs to improve on. In the second half, he was missing on some throws, he was missing on some reads. But for him to get himself back on track I felt was a big step for him in a direction he'd been struggling with in the past. It shows at least some maturation in my mind with regards to mental fortitude and getting back on track and finding a way to finish a game strong."
Wilson, who was 18 of 35 for 317 yards with a TD and an INT, did lead the Jets on a go-ahead 7-play, 56-yard drive that culminated in a scoring toss to TE C.J. Uzomah for a 17-13 lead with 4:45 to play.
Saleh was asked if the organization would favor Wilson, the No. 2 overall selection in the 2021 NFL Draft, over a healthy White, a fifth-round pick of the Cowboys in 2018 who has started three games for the Jets, in a scenario where there isn't much of talent gap.
"I don't care how much you get paid, I don't care where you got drafted, if you're better by that much you're going to play," Saleh said, as he indicated a small amount with his fingers. "That will never change. That will never change. The greatest example, the eye-opener for me, was something I learned from Pete [Carroll] when I was in Seattle. We paid Matt Flynn all that money and Russell Wilson was a third-round draft choice, and he was that much better [fingers again!], and he became the starting quarterback, despite all the money invested in Matt Flynn who is a very good quarterback. Knock on wood, I've been in Jacksonville, San Francisco, organizations that have the same philosophy in terms of the best people will play, no matter the draft choice."
Injury Update
During the call, Saleh said that DL Quinnen Williams (calf) was "better than 50/50 this week" to face the Jaguars on Thursday night.
"It was probably more wishful thinking that he'd wake up Sunday and be ready to roll," Saleh said, referring to the game against the Lions. "At the same time, we feel very optimistic about [his availability] Thursday."
On the status of QB Mike White (ribs), the coach said that he is still being evaluated by team and outside doctors. Asked if White would start if he is medically cleared, Saleh said: "I'm not prepared to answer that."
In addition to Williams, Saleh said that WR Corey Davis, who did not play against the Lions, "should be ready to roll Thursday."
WR Denzel Mims is in the concussion protocol and is "mostly likely out"; WR Jeff Smith is questionable with a knee injury; RB Zonovan 'Bam' Knight (ankle) is questionable, but is expected to play against Jacksonville; S Lamarcus Joyner (hip) remains questionable after missing Sunday's game; and CB Brandin Echols (quadriceps) is out.