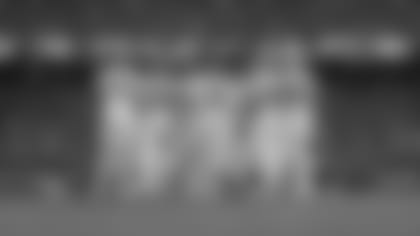 After the Jets' 16-12 loss to the Raiders on Sunday night in which his team failed to score a touchdown for the second straight game, head coach Robert Saleh the club is exploring all options to find a way to generate points outside of making a change at quarterback or play-caller.
"We are looking at things with regards to schematically what we can do differently and trying to continue to find more ways to feature the things our guys are comfortable with – gameplan permitted," Saleh said Monday. "As far as meetings go, meeting structure, practice habits or practice plans, we are looking at everything guys. As far as personnel changes, we are looking at making changes, but I am going to keep that here with me. We are looking across the board to find some ways to generate offense."
The Jets outgained the Raiders by nearly 100 yards (365-to-274) and converted 7-of-16 third down attempts, but they committed four penalties on their first three scoring possessions that all ended with Greg Zuerlein field goals. Zach Wilson became the first QB in franchise history to pass for 250 yards (263) and run for 50 yards (54) in the same game, but his second quarter scoring run was nullified when replay officials ruled he had stepped out of bounds at the LV 3. On the ensuing play, Breece Hall's 3-yard TD was also taken off the board due to a holding penalty. Despite all the self-inflicted wounds, the Jets were in position late to take a lead but Raiders LB Robert Spillane intercepted Wilson in the red zone with 1:14 remaining.
"There have been some peaks and valleys but yesterday we we're moving the ball," Saleh said. "Zach was moving ball with his feet, moving ball with his arm and we got all the way there. We had a chance to go win the football game. Obviously 41 [Spillane] made a hell of a play on the route, but Zach needs to get a lot better.  He knows that, but to try to pinpoint it all on just one person with everything that's happening, I don't see how that's productive."
Despite Saleh being encouraged by an improved overall effort on offense, the Jets haven't scored an offensive TD since Breece Hall's 50-yard TD vs. the Giants in Week 8.
"I thought we moved the ball well, but we got to figure it out," Saleh said. "We got to figure out how to get this thing going. We've got to figure out how to put points on the board. The sense of urgency is always at a premium. But you just got to tell the truth and you don't want to be too drastic and just make changes to make changes. Because sometimes guys just need a little bit of time and continuity to give themselves a chance to get their ball rolling."
Support from the Defense
Even though the Jets offense has continued to struggle, the defense continues to give the team a chance to win each week. After yielding 16 points to the Raiders, the Jets now have the NFL's 7th-ranked scoring defense (19.1 pts/g).
"At the end of the day, they are our teammates," LB C.J. Mosley said. "Those are our brothers out there trying to do the right things, try to put us in the right positions. Obviously, we are with them every single day, them working trying to put their best foot forward."
Since their Week 7 bye, the Green & White have produced 1 offensive touchdown and are No. 30 in points per game (16) over the first 10 weeks in OC Nathaniel Hackett's offense.
Mosley drew a parallel in terms of growing pains from the 2021 season when he and the team learned Robert Saleh's and defensive coordinator Jeff Ulbrich's defense.
"We understand the struggle," Mosley said. "In '21 our defense was in the same position trying to figure out what was our style, how do we want to come out and play our style of defense, and it took some time. You look at '21, that is a whole different defense and not just saying with the players and those type of things but just the camaraderie that we have together, the time that we have spent on the field, those hard losses, those hard plays that we had to learn from."
No More Excuses
Veteran TE Tyler Conklin, who set season highs with 7 receptions and 70 receiving yards vs. the Raiders, is stressing urgency for an offensive unit that has suffered from uneven play since the Bye.
"We got to come together as a team," Conklin said, "and say, hey, what the hell do we want this offense to be? What do we need to do to fix this offense?"
Over the past three games, the Jets have committed 25 penalties for 208 yards and turned the ball over 6 times during a 1-2 stretch. Conklin is confident the team will get it right but said it starts with holding each other accountable.
"Are we going to sit here and throw in the towel, and I think it's the end of the world?" Conklin said. "Or are we going to come together as a team and stop making excuses or whatever the hell is going on from game to game, play to play and get it fixed and knowing the guys we have in this building, I got a good feeling that that's something we can do."