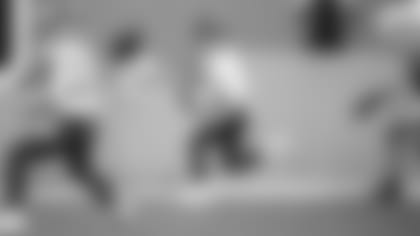 There was nothing in Zach Wilson's performance against Miami on Sunday to shake the confidence of head coach Robert Saleh in his rookie quarterback. If anything, Saleh said on Monday that Wilson took some important incremental steps during the Jets' 31-24 loss to the Dolphins.
"I'll speak on the two halves, his off-schedule stuff was really cool yesterday," Saleh said. "He did a lot of great things in terms of just feeling the pocket. Thought he did a good job of getting the ball to where it needed to go in the first half."
Early in the second quarter, Wilson made a daring escape, eluding three tacklers as he scrambled before finding TE Ryan Griffin for a 23-yard gain. Pre-snap he recognized a blitz before a second-down completion to Jamison Crowder. Still in the first half, when the Jets built a 17-10 lead, he rushed the offense to the line on third-and-1 and called for the ball as the Dolphins were called for having 12 men on the field. He hit on his first six passes and led the Green & White to three scoring drives on their first four possessions.
"We had a 10-0 lead and he throws an absolute dart on third down. Keelan's [Cole] got to come down with it, obviously," Saleh said. "He [Wilson] was standing in there against a pretty complex system.
"Second half, obviously we had an opportunity early in the fourth quarter to get back in rhythm when we got the explosive screen and then the explosive run. Held the ball a touch long on the first down that caused the sack fumble, but one of the cool things that I think happened yesterday that no one notices is that was really, offense had the ball twice inside three minutes at the end of the game to win. I was going for two, everyone knew we were going for two if we score. And so, it was just a great opportunity for our offense, and if you guys all look at it, that was the first true two-minute drive that we've had this year."
Wilson finished 13 of 23 for 170 yards and he was sacked six times against a Dolphins defense that kept the offense off the scoreboard in the second half.
"There's a lot of learning in those situations for everybody, especially Zach," Saleh said. "And I thought he did a good job.
"He managed the game and we scored 17 points on a pretty good defense. I don't think they allowed 17 points at all in their six-game streak."
He added: "But there's a lot of really cool things that he's doing, and it's like I said, it's on all of us to help elevate him even more, from winning one-on-ones as route runners to pass protection to running the football, all of it."
With Jacksonville (2-12) coming to MetLife Stadium on Sunday with its rookie QB Trevor Lawrence (the No. 1 overall draft pick; with Wilson No. 2), Saleh was asked about the their rookie struggles.
"It's a good reminder that for all we do when we tend to celebrate the rookie anomalies like [the Chargers' Justin] Herberts of the world. But as far as rookie quarterbacks go, usually what happens, they struggle. If you look at rookie quarterbacks in the history of time, it is not easy to come into this league and play quarterback and play at a high level, especially when you're coming to a team that's kind of building," he said.
LDT: 'I Love Playing Football'
Right guard Laurent Duvernay-Tardif made it perfectly clear on Monday that playing for the Jets is exactly where he wants to be.
"I know that I have less football in front of me than I've already played, so for me it's important to come out and go back on the football field and contribute to the team," LDT, 30 said. "KC made it clear to me that I would be a backup until someone went down. In that regard, I'm happy to be here on the football field showing what I can do."
Before he was acquired by the Jets after being traded by the Chiefs (who acquired TD Dan Brown, cut him, and saw him re-sign with the Jets), LDT's previous game was in KC's Super Bowl victory over San Francisco in February 2020. A Canadian who graduated from medical school, Duvernay-Tardif opted-out of the NFL's 2020 season to work in a nursing home in his native Montreal.
His time away from the game has not tempered his desire to be between the lines on Sundays in the autumn and the winter. Since he joined the Jets in mid-November, LDT has played 100% of the snaps on offense in four of the five games he's appeared in.
"I love playing football," he said. "It's always tough to lose, but the adrenaline walking out of the locker room, getting ready for a game -- nothing can beat that. This is the best opportunity, from a personal standpoint, especially if I can help build something here, then it's going to be even better."
Sheldon Rankins Says That December Football Is 'Very Simple'
DL Sheldon Rankins has been around long enough to know the significance of playing in the NFL when autumn turns into winter.
"December football comes out to something very simple," he said on Monday. "Can you execute the game plan better than the guy across from you? A lot of football teams have played a lot of football and they are who they are. It's simply going to come down to can you lock into details for four quarters and 60 minutes of football.
"The younger guys are starting to understand, asking questions, talking to guys like myself and C.J. [Mosley], guys who played meaningful football. We just have to get the young guys to understand that regardless of situation December football is when good teams elevate and play their best football, really turn up a level and lock in."
Jetcetera
HC Robert Saleh said on Monday that safety Elijah Riley, who was injured in a collision with DL Kyle Phillips on Sunday, is in the concussion protocol and is expected to return before the season wraps up. Riley was immobilized on a stretcher and taken from the field on a cart. "He checked out good at the hospital and should be able to return this season," Saleh said. "Knock on wood. It was a scary moment for everybody in the stadium, especially those wearing uniforms. Elijah had a couple of symptoms and everyone did a good job getting it under control to be as safe as possible. All the scans checked out. It's a scary concussion, but I've been told he'll make a full recovery. He's sore, but his playing career is not in jeopardy."
As the coronavirus continues to be an issue in the NFL and throughout the U.S. and the world, the Jets reported that John Franklin-Myers, Lamar Jackson, Vyncint Smithand Tanzel Smart had been placed in the league's Reserve/COVID-19 list. Folorunso Fatuski and Noah Dawkins were added to the COVID list on Saturday. ... In addition, TE Ryan Griffin is dealing with a knee injury and DL Quinnen Williams, who left the game after aggravating a shoulder injury, will be limited this week in practice. Finally, Saleh said that he expects LT George Fant (knee) to be ready to face the Jaguars.