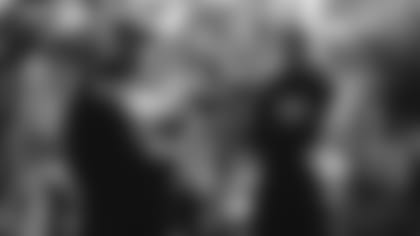 Super Bowl LVI is over. The Senior Bowl, with the Jets coaching staff in charge of the National team, has come and gone. This week the Green & White's braintrust gathers at One Jets Drive to plot a course forward, which begins in fewer than two weeks with the NFL Scouting Combine, continues with the start of the free-agent signing period in mid-March and culminates (after much speculation and an untold number of mocks drafts) with the NFL Draft at the end of April.
And while there will be many coaches, scouts and staff members in discussions and meetings, the organization -- headed by GM Joe Douglas and HC Robert Saleh -- is refreshingly speaking and acting with a singular purpose.
"I think Jets fans just have to be patient," SiriusXM NFL analyst Adam Caplan said. "They've been patient my whole lifetime, but there is a clear plan here to build with young developmental players, be coached up, and get better each year and that's the way they're going to do this.
"They're just going to roll and continue to build. There's no quick fixes in the National Football League, this is not the NBA. You can't do it that way, so I like Joe's idea to develop this roster and he's off to a good start. I know fans want instant gratification and they want the results tomorrow, but it doesn't happen like that. You have to let it happen, and Joe is going to build this thing the right way."
According to Daniel Jeremiah of NFL Network: "I've known Joe forever and everyone that's been around Saleh has just raved about him. I think those guys are sharing the same vision and they're in lockstep. You don't have a chance in this league if you're not on the same page from a personnel department to the coaching staff and I think that's what should be exciting for Jets fans right now. You take a look at these two guys, two incredibly smart guys, guys who aren't ego driven. It's all about the team and they're on the same page. I think that's going to give the Jets a real good chance."
The (Draft) Capital Plan
Douglas believes in building through the draft, augmenting and filling some vacancies in free agency.
By most metrics, his 2021 draft class overachieved and had an excellent debut season. The Jets landed four "primary starters," in the lexicon of Pro Football Focus, in QB Zach Wilson, LG Alijah Vera-Tucker, CB Brandin Echols and RB Michael Carter. Add WR Elijah Moore and CB Michael Carter II to that list, a crop that also includes promising linebackers in Jamien Sherwood and Hamsah Nasirildeen, and S/CB Jason Pinnock.
And while some of Douglas' picks from the 2020 draft might have had an uneven start, Mekhi Becton, Denzel Mims and La'Mical Perrine are too young and too talented to be written off. And don't forget that the group also includes S Ashtyn Davis and Bryce Hall, the former who received valuable experience down the stretch and the latter who became one of the league leaders in pass defenses.
As of now, Douglas and the Jets this year have two top-10 picks (No. 4 and No. 10, the latter via Seattle), four picks among the top 38 selections, nine picks overall, and nearly $50 million in cap space to work with to build around Wilson.
"They're in a unique position, right?" said Connor Rogers, Bleacher Report's NFL Draft analyst. "When you look at the aftermath of the Jamal Adams trade that's still there, the aftermath of the Sam Darnold trade [acquiring picks in the second, fourth and sixth rounds], which is really just beginning. So, you have four picks in the top 40, that's a lot to work with. The fact that two of them are in the top 10, you go from looking to getting starters to getting blue-chip players, premium players, guys that you can use as foundational pieces.
"You need guys that are going to be there for the next eight years. You look at the trade up for a guy like AVT, you need more guys like that. Guys that you know can be more Pro Bowl-level in the future, they fit your scheme, really high floor but also have the ceiling of a high-level athlete. They're in a unique position where they're going 'OK, we started the rebuild, but now we really need to look to compete and look for a playoff roster and build that core.' And this is an opportunity to round out that core."
By any stretch, the Jets are sitting pretty. They can stand pat and spend some of that capital, and with Wilson -- last year's No. 2 overall pick -- in the building, the Green & White are likely to field calls from teams in need of help at QB and looking to perhaps move up in exchange for even more picks.
"They have a quarterback, so it would be great if someone would try to come up and try to draft a quarterback at their slot and let them trade back one of these picks and just get draft capital," said Ian Rapoport of NFL Network. "I think that's one of the best things, and I know Joe Douglas knows this as well, is to have as many picks as you can, have as many premium picks as you can. This is how you set the foundation, this should be a foundational draft for the Jets."
Hands On at the Senior Bowl
Saleh leaped at the opportunity for him and his staff to coach the National team at the recent Senior Bowl in Mobile, AL. Saleh was part of the 49ers staff that oversaw a team in 2019. What was different this time around for the Jets staff (and the Lions staff that directed the American team) was that the head coaches took a step back and delegated the running of practices and the game to their assistants.
With their draft capital and a unique opportunity to work with perceived draft darlings and players who are likely to be available in later rounds, the Jets were able to log quality time with dozens of players.
"Everyone knows the guys that come off the board in the first two days, right?" said Greg McElroy, a QB out of Alabama who was drafted by the Jets in the seventh round in 2011 and is now an analyst for the SEC Network.
"But the guys who I think you stand to benefit from working with them hands on, are the diamonds in the rough.
"[Sometimes] you're like hang on a second, that's a guy who might have a little bit more in the tank that we originally realized and didn't know that just based off the tape because he's just not available to you. When you're actually working with the guys hands on, it can be beneficial. So maybe everyone knows who the top 100 players are, everyone knows who the top 150 are in a lot of cases, but those guys really from 150 to 250 that will be drafted, just a matter of where, and now you get to know what they're like off the field, what kind of personalities they are, and how they're going to fit with the culture of the team you're trying to create."