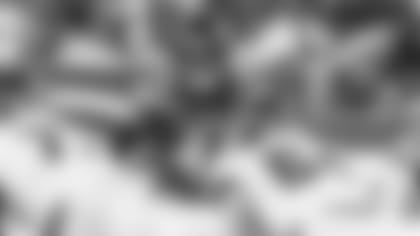 Jets rookie linebacker Jamien Sherwood said that he's growing comfortable playing next to veteran LB C.J. Mosley. Thing is, at MetLife Stadium on Friday night Mosley (and more than a dozen of his teammates) were held out of the preseason finale, a thrilling 31-31 tie against Philadelphia.
For Sherwood, that meant no chatter from an experienced LB, one of the best in the NFL.
"Honestly, it's crazy," Sherwood told Eric Allen of nyjets.com immediately after the game. "As I've said, I used to play C.J. in 'Madden' and now I'm next to C.J. Mosley. It doesn't feel real, but it is. I know if I make a mistake, he's going to be there to correct it."
That on-field coaching was not available to Sherwood. It's hard to know if it would have made a difference when Sherwood, who played safety in college at Auburn, was on his own in the open field and didn't finish two attempted tackles, both on the game's first series.
On the first play, Eagles backup QB Joe Flacco, who was with the Jets last season, found Jalen Reagor on a short pass on the left. Sherwood swooped in, went to the ground and spun around with Reagor in his grasp. But the wide receiver slipped free and picked up 18 yards and a first down.
Three plays later, Flacco found running back Boston Scott in the flat. As Sherwood closed, Scott hit the sideline and turned upfield en route to a 49-yard catch-and-run TD. He left Sherwood behind and beat S J.T. Hassell down the visitors sideline.
"The first one was unlucky, but that's why you don't let go," Jets head coach Robert Saleh said. "I think every time he hits the field, he is going to learn something. It will help when he has C.J. [Mosley] flanking him to be able to communicate and talk to him, and obviously Marcus [Maye] flanking him on the other side just from a communications standpoint. I thought it was so important for him and Nas [Hamsah Nasirildeen] to get out there and compete the best they could."
Those two plays will do little to dampen the coaching staff's belief in Sherwood now, and for the future. The rookie said the joint practices the past two weeks, first in Green Bay, then at home with the Eagles, was a huge benefit.
"When we went to Green Bay, the practices were something I've never done, so I thought it was cool," Sherwood said. "Getting reps in practice, seeing it on film makes it easier at game time because the coaches have already corrected you. Philadelphia had a lot of moving parts, you had to keep your eyes open. Adjusting in practice is easier than in the game."
He did add that during the first half, when the Eagles scored 21 points and he played in 45% of the snaps, adjustments were made on the sideline.
"Once we got to the sideline we just put in a little package and got it all done," Sherwood said.
Ty Johnson Makes His Case at Running Back
Running back Ty Johnson opened a lot of eyes late in the 2020 season when he practically came from nowhere to rush 22 times for 104 yards against the Las Vegas Raiders. If fans considered him to be a mere flash in the pan, the Jets' new coaching staff obviously sees things differently.
During the preseason, Johnson has emerged as a key cog in the Green & White's offensive backfield-by-committee. He flashed again on Friday night, logging 13 carries for 53 yards and catching 2 passes for 18 yards.
"I think I showed them I can play," Johnson told Ethan Greenberg of nyjets.com after the game. "I caught the ball, I think throughout the preseason I showed I can catch, run, block. I think in the first preseason game my short yardage game was iffy. I think I showed what I need to show and I'll leave it in whoever's hand whether I'm here or not."
Johnson was referring to Tuesday's cutdown day, when the Jets and the other 31 NFL teams must reduce their rosters to 53 men, with a 16-man practice squad.
"The emphasis for him this year since we walked into this building has been to get those tough yards," Saleh said. "Third-and-1, lower your shoulder. It's not about finding the crease, it's about moving piles, sticking his foot in the ground and getting violent with his running, running his feet on contact. I thought he did a really good job there. He converted a third and short and was moving piles, lowering his shoulder and getting tough, aggressive yards. That was a great plus for him."
Backup QBs Take Their Shots
With Zach Wilson resting and expected to be named the team's No. 1 quarterback and Mike White out injured, Josh Johnson and James Morgan split the game, and they both acquitted themselves well.
Of course Morgan led the Jets back, including the furious desperation TD pass to TE Kenny Yeboah leading to a two-point conversion that left the game tied.
For Johnson, a veteran who has played for more than a dozen NFL teams (and in other leagues), he turned in a strong performance, hitting on 7-of-8 passes for 73 yards. The question of who sticks with the team on Tuesday's cutdown day will be a coaches decision. (Of course, the status of injured Mike White could play into it.)
"I'm human and I've had my ups and downs, good and bad days," Johnson said. "I've been doing this long enough that I can figure things out by how it's been going. I try not to focus on it, I try to be prepared for the moment. I found out I was going to play, and didn't focus on the circumstances. I focused on trying to make the best choices and we were able to put some points up."