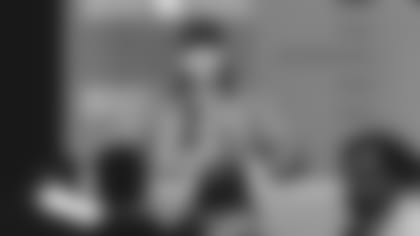 There's little doubt that the Jets have emerged as an appealing destination for QB Aaron Rodgers and other players (Odell Beckham, Jr., for one). HC Robert Saleh said so emphatically at the recently concluded NFL League Meeting in Arizona after the Jets added two wide receivers -- Allen Lazard and Mecole Hardman, Jr.
When it comes to Rodgers, "I think you have to wipe the drool off his face," Dianna Russini of ESPN told team reporter Eric Allen on "The Official Jets Podcast." "Look at Green Bay, he had the pieces to play with and great quarterbacks make everyone better. He has that ability. Now, he'll be on the field with guys who have this talent."
"Young players, good or bad, are impressionable," she said. "I think it can work, the mix is going to be good. I remember Tedy Bruschi [the Patriots' former linebacker] brought up if he's Saleh, he gets in the faces of these guys and tells them that they better get all over Rodgers in practice to show him it's your team and not his team. But if he's coming to New York — it's his team. If you want this team to be built the right way, this past year it's been about the defense and its strength. Let all the other pieces be the sprinkles on top of it all. I want to see if this could be a philosophy the team could have -- yeah we're young, but we're good and we're talented and we're going to grow together. It's our team and you're just a piece."
On the same podcast, Tom Pelissero of NFL Network said that the Jets and Packers are "not far apart, but not close yet. That could change in the next couple of days."
"I imagine there's a conversation, the Jets don't have a pressure point right now," he said. "It doesn't matter to the Jets if he's on the team now, in a month, later in the spring or at training camp. He knows the offense [from working with the Jets' new OC, Nathaniel Hackett in Green Bay]. He knows the scheme inside and out. The pressure point is for the Packers and the draft, if they want to get picks now."
Pelissero also floated an ancillary benefit for the Jets if they can finally land Rodgers.
"It might be a new life for Zach [Wilson]," he said. "He already has a relationship with Aaron, who will take him under his wing and will try to help him. Hackett can infuse positivity like he did with Rodgers, who was not enjoying football when he got there. Whatever Zach is feeling now, I think you would agree this is not the guy you thought you were getting at No. 2. If Hackett can bring energy back to Zach, there's no pressure, there's no urge to give up on the guy, and he might be able to at least revive the hope that this guy can develop and resurrect his career."
Joe D. ... D as in Draft
It's no secret around the NFL about how highly Jets GM Joe Douglas values draft picks.
He hit on all cylinders in the 2022 NFL Draft when all seven of his selections made the team, and all but third-round pick TE Jeremy Ruckert made credible contributions last season. In fact, the team's two fourth-round selections -- T Max Mitchell and DL Micheal Clemons -- played significant minutes and made notable contributions. Much is expected from each of them in the coming season.
"I think when we looked at some of the guys that we had graded later in the draft that ended up making teams, a lot of those guys came back for fifth and sixth years, so they were a little bit more mature physically," Douglas said during the recent NFL Combine. "They were a little bit more developed and so we felt like that maybe played a factor in them being able to come in and make a team either as an undrafted free agent, or as a late round draft pick."
Clemons, 25, used an extra year of eligibility that was granted to college athletes during the coronavirus pandemic. In addition, he used a medical redshirt at Texas A&M in his junior season. Jermaine Johnson, 24, the Jets' third-round pick last year, used an extra year of eligibility and transferred from Georgia to Florida State.
Draft News and Views
ESPN staff writer Bill Barnwell has two words for the Jets and their No. 13 overall pick in the 2023 NFL Draft later this month: "Trade down."
Assuming the Jets complete the trade with Green Bay for QB Aaron Rodgers, the Jets are expected to "be sending some uncertain amount of draft capital to the Packers to land their new quarterback," he wrote. "It doesn't seem as if the Jets are willing to send this choice (first-round pick) to Green Bay, but they have two second-rounders and all of their key selections in 2024, so it seems safe to suggest at least one of those second-round picks and some capital next year will be heading the other way.
"Moving down from No. 13 would help recoup some of that capital for general manager Joe Douglas. The Jets are fortunate enough to have an exciting roster after the past few years, so their goal should be to add depth along the defensive line and help on the interior of the offensive line, which they can achieve later in the draft."
Also, in a development that is likely to have an impact among teams near the top of the draft, Drew Rosenhaus told media outlets that Georgia DT Jalen Carter only plans to visit teams that are picking among the draft's top 10 selections.
Carter, who had been facing legal issues in Georgia connected to a fatal car crash in Georgia in January, is rated as the No. 5 overall prospect by Daniel Jeremiah of NFL Network.
The Bears, who traded down from No. 1 to No. 9, hosted Carter for a visit earlier in the week. The Eagles, who have the 10th pick, have already met with Carter.