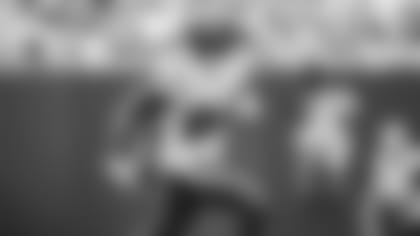 Much like a football game, the Jets' approach to the NFL offseason can be loosely divided into four quarters.
First came the coaching staff's deep involvement at the Reese's Senior Bowl in Mobile, AL, at the beginning of February.
Up next is the week-long NFL Scouting Combine, which begins on Monday in Indianapolis after last year's weight-and-measure extravaganza was canceled because of the coronavirus pandemic.
In mid-March things really get serious with the dawn of the free-agency signing period, which begins with the "legal tampering" sprint on March 14. Two days later, clubs will be able to begin negotiations with the agents of unrestricted free agents.
And in that fanciful fourth quarter comes the much anticipated 2022 NFL Draft, when the Jets (at present) own four of the top 38 selections (two picks each in Round 1 and Round 2) and nine selections overall.
In no particular order, general manager Joe Douglas said in January: "We're excited about this offseason. We're excited about attacking free agency, about attacking the draft, about attacking the Combine."
In the Jets' Backyard
Before the Jets look outside (the team is estimated to have about $50 million in salary-cap flexibility), there is the matter of evaluating the value of the team's own 19 players with either expiring or voiding contracts.
The guy who has garnered a lion's share of the attention is WR/KR Braxton Berrios, 26, who had a breakout 2021 season, including four TDs in his final three games.
"Obviously, we love Braxton," head coach Robert Saleh said. "I've always sat up here and said it's our job as a coaching staff to make [general manager] Joe Douglas' job as hard as possible with regards to re-signing people."
Beyond Berrios, Douglas, Saleh and their staffs have decisions to make on a handful of veteran players, a list that includes DT Folorunso Fatukasi, S Marcus Maye, S Lamarcus Joyner, WR Jamison Crowder, and offensive linemen Morgan Moses and Laurent Duvernay-Tardif. Maye, the longest-tenured player for the Green & White, played last season on the franchise tag and is coming off an Achilles tendon injury.
"Any decision that we make, in regards to Marcus or any other player on expiring contracts, the decisions are going to be made in the best interest of the team now and moving forward," Douglas said.
Another group includes K Eddy Piñeiro, WR Keelan Cole, RB Tevin Coleman, TE Tyler Kroft, C Dan Feeney and DL Nathan Shepherd.
Addressing Needs, Filling Holes
Douglas has shown he's not adverse to pursuing free agents, but as he did last year, he shops for value and in several cases -- Keelan Cole, Jarrad Davis and Lamarcus Joyner, for example -- signed players to one-year contracts in what amounted to single-season auditions.
Does he again take a modest approach in free agency then go big in the draft? Or does he open the vault for a player like DE Carl Lawson, who showed so much promise before sustaining a season-ending Achilles tendon injury late in the preseason?
Whichever approach, the Jets have multiple needs.
"As far as free agency, I'm sure they're going to be in a lot, they're always in a lot," said Ian Rapoport of NFL Network. "Is it going to be real splashy? I'm not sure because I know this is a team that would like to build through the draft and then the other thing is the money is not really an issue but think about it, you have two high first-round picks, that's a lot of fully guaranteed money you just hand over to the league office. They have financial flexibility, but it's hamstrung a little bit by just having two high picks."
The conventional wisdom among many NFL analysts and observers is that the Jets would benefit from another cornerback, even though the team's young group -- Bryce Hall, Brandin Echols and Michael Carter II -- proved it could play last season. Among potential free-agent targets at CB are J.C. Jackson (Patriots), Carlton Davis (Buccaneers), Casey Hayward (Raiders) and Ahkello Witherspoon (Steelers). It is possible, however, that some or all will re-sign with their current clubs.
"There are a couple of guys there, but if they can add some difference makers in the front seven and obviously a corner or two," said ESPN's Mike Tannenbaum. "To me those are the positions you usually can't get in free agency, you don't see great young corners leave teams or great young pass rushers. To me, you want to kind of back-fill other needs and try to get those premium positions in the draft. I think Joe Douglas has done a really good job of amassing good value to do that."
While the draft includes several appealing tight ends, like Trey McBride (Colorado State), Jeremy Ruckert (Ohio State) and Jake Ferguson (Wisconsin), going with a veteran free agent could give QB Zach Wilson and OC Mike LaFleur a potent option for the offense.
"Tight end I could see whether that's like a Zach Ertz, a Dalton Schultz or maybe one of those veterans out there," said Jeremy Fowler of ESPN. "Giving Zach Wilson an easy security blanket over the middle, to me, would be pretty important."
Adding a tight end could have a profound impact on Wilson's development, and the same can be said if Douglas opts to fill a need at wide receiver with another top free agent. He added Corey Davis last year, and gave Cole a one-year deal. There's a long list of available, top shelf WRs who could complement Davis, Elijah Moore and Denzel Mims. Among that top tier of free-agent WRs are Davante Adams (Packers), Chris Godwin (Buccaneers) and perhaps Odell Beckham Jr. (Rams) before he sustained a knee injury in the Super Bowl.
"Overall, it's a decent free-agent receiver class, but there's a buyer beware clause because there's issues with injury history, inconsistency, etc." said Adam Caplan of SiriusXM. "But there's a lot of guys out there, potentially, with franchise tags, and if these guys re-sign. The fact of the matter is there will be some players that they can draft, there will be some players that they can sign, and Joe knows this, they have to help the quarterback. That to me is a big thing."