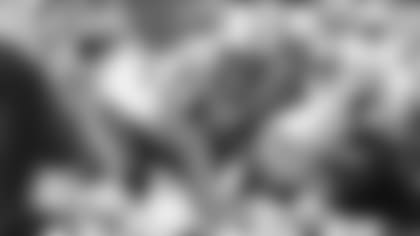 For a guy who didn't show many jitters during this 11-year playing career with the Jets, Nick Mangold admitted he has butterflies before his Jets' Ring of Honor induction on Sunday during halftime of Jets-Bengals at MetLife Stadium.
"It's going to be nerve-wracking up to halftime," Mangold told reporters. "And then after halftime, we'll enjoy ourselves."
Mangold, the 29th overall pick in the 2006 NFL Draft out of Ohio State, started each of the 171 games he played with the Jets. A two-time first team All-Pro (2009 and '10) and second team All-Pro in 2011, Mangold was a seven-time Pro Bowl selection. During his career, he was at the center of six top-1o rushing offenses, including the Nos. 1 and 4 units, in 2009 and 2010. He had a 4-3 mark in three postseason appearances, which included back-t0-back runs to the AFC championship game in 2009-10.
"We had some great highs even though we didn't finish it the way we wanted to," he said. "It was still a lot of fun in those runs and even in the lows there was always something to take away that was enjoyable."
In June, Ambassador Robert Wood Johnson informed Mangold, D'Brickashaw Ferguson and Darrelle Revis that they would be added to the team's Ring of Honor this season. Then on Sept. 7, at the team's annual kickoff luncheon, Mangold and Ferguson, a three-time Pro Bowler at left tackle who was selected 25 picks before Mangold, were presented their Green jackets.
"That's when it kind of hit home," Mangold said. "Ooh, this is something big. It's been a process of the Kickoff Luncheon to now, really coming to grips with what it means and what it means for the family and for the legacy and whatnot. It's really special and it's something I'm really excited about."
Mangold, who grew up about 50 miles north of Cincinnati in Centerville, OH, will have plenty of support at the stadium on Sunday as the team he rooted for as a youngster tussles with the one team he suited up with from 2006-16.
"For the game alone, we are somewhere in the 120 range, just personal invites," he said. "Many people have reached out and said they were coming in for the game, so it's really humbling when you have that many people who will take time out of their schedule, it's a Sunday."
In his post-playing career, Mangold still lives close to 1 Jets Drive and is the team's ambassador to the United Kingdom as part of the NFL's International Home Marketing Area (IHMA) initiative.
"I enjoyed my 11 years here and I wouldn't trade it for the world," Mangold said.
Note: Before Nick Mangold officially joins the Jets' Ring of Honor, he will appear on "Pregame Central." The team's live pregame show, which airs on its digital platforms, will kick off at 11 a.m. on Sunday from inside the Tailgate Zone. In addition to Mangold, actor Ralph Macchio, a lifelong Jets fan, will also join Anthony Becht and Quincy Enunwa on the set.
"I'm hoping it's rocking, coming off the crazy win that we had from the Browns, 1-1, coming in back home," Mangold said. "I know on 9/11, the crowd was fantastic."