Kicker Nick Folk and punter Ryan Quigley visited Egg Harbor City Community School and Whiting Elementary School on Wednesday and presented each South Jersey school with a $2,000 check to reward its healthy initiatives after the New York Jets named both schools as two of the four first-prize winners in the N.J. Department of Agriculture's Play 60 Eat Right, Move More program.
Whiting compensates for not having a kitchen by using a food service company to provide bagged breakfasts to its underserved students. They have hot and cold foods delivered daily, including fresh fruit and salad, and different exercises are taught each morning for the students to do in their classrooms.
Egg Harbor City serves free breakfast in the classroom to all students and even has its own school garden called the Edible Classroom.
"A good breakfast is such an important way to start each day so I think it was a great focus for this year's Eat Right, Move More program," Folk said. "Coming to Egg Harbor City Community School and Whiting Elementary to celebrate these schools' commitment to health and wellness is a real honor for me."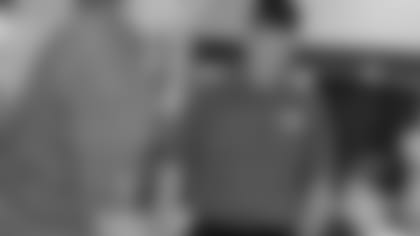 Folk and Quigley handed out signed merchandise such as Jets footballs and yearbooks as they spoke about the importance of developing healthy habits to 245 students from pre-kindergarten to fifth grade at Whiting and 233 fourth-through-eighth-graders at Egg Harbor City.
Their words did not fall on deaf ears — many of these kids have already been practicing what Folk and Quigley preached in logging 60 minutes or more of physical activity per day for four consecutive weeks as participants in the Play 60 program. The New Jersey Department of Agriculture, the Robert Wood Johnson Foundation and the American Dairy Association & Dairy Council all partner with the Jets' initiative to encourage children to eat healthy and exercise.
"It was wonderful to have our students participate in such a worthwhile program in an effort to promote healthy eating and consistent participation in physical activity," Whiting principal Evelyn Swift said. "Our students were enthusiastic and our teachers were supportive of the endeavor."
"Since 2006 our school community has been on the cutting edge of school wellness and health," Egg Harbor City principal Jack Griffith said. "We've worked hard to continue this effort by identifying issues that need to be addressed and solving them through the School Wellness Team. The staff of the Egg Harbor City Community School is excited to be recognized by the NJ Department of Agriculture and the Jets organization for our hard work and dedication to improve school wellness and increase student physical activity."
Griffith said they'll use the money toward building a beginners' rock-climbing wall and bringing in an Atlantic City chef who will assist in providing healthy lunches for students while mentoring the school's catering company.
Two additional schools will join Egg Harbor City and Whiting as co-winners within the next month. The grand prize — including a $10,000 grant — was awarded to Roosevelt Elementary School in Rahway last December.