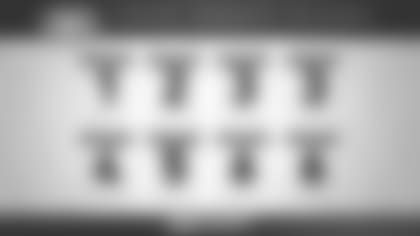 The NFL today released the full order of the 2020 draft, and the Jets, as previously reported, at the moment have eight choices in the selection meeting that will take place from April 23-25 in Las Vegas.
The league also announced Tuesday evening the awarding of compensatory picks for the upcoming draft, but the Jets, for the third straight year and fifth time in the last six years, received no compensatories.
The Jets' draft selections include their own in the first six rounds plus the third-round pick, No. 68 overall, that the Giants sent to them along with a conditional pick next year (a fourth- or fifth-rounder) in the October trade for DL Leonard Williams, and the last pick of Round 6, No. 211, that the Chiefs gave up in the trade last May of LB Darron Lee.
Thus the Jets have four picks in the top 79, their four most valuable picks at the top of a draft since they had four picks in the top 72 in the 2013 draft.
They also retained their two No. 6 picks, their own and the one from KC, one of which was a conditional choice originally sent to Indianapolis in August for CB Nate Hairston. Because the conditions of the deal weren't met, the Jets retain both sixes.
The Green & White do not have their seventh-rounder, No. 225, having shipped it to the Ravens in the August trade for OL Alex Lewis.
Here are the rounds and overall picks for the Jets' eight current selections:
Round 1: No. 11 overall, Jets' own selection.
Round 2: No. 48, Jets' own selection.
Round 3: No. 68, from Giants along with 2021 conditional pick in October '19 trade for DL Leonard Williams.
Round 3: No. 79, Jets' own selection.
Round 4: No. 120, Jets' own selection.
Round 5: No. 158, Jets' own selection.
Round 6: No. 191, Jets' own selection.
Round 6: No. 211, from Chiefs in May '19 trade for LB Darron Lee.
This will be the sixth consecutive draft in which the Jets will spend no compensatory picks. They received no compensatories for the 2015-16 and 2018-19 drafts as well as this year's draft.
The only compensatory the Jets received since 2015 was a third-round selection, No. 107 overall in 2017, awarded to them after the losses of unrestricted free agents Demario Davis, Damon Harrison and Chris Ivory. But that was the first year that teams were allowed to trade compensatories, and the Jets sent that No. 3 pick to Tampa Bay for the Buccaneers' fourth- and sixth-round choices.
After another trade to the L.A. Rams, the Jets had parlayed that third-rounder into three picks, which they used to select WR Chad Hansen (Round 4, No. 141 overall), CB Jeremy Clark (Round 6, No. 197) and CB Derrick Jones (Round 6, No. 204). Hansen was a 2018 final cut while Clark and Jones were waived late in the 2019 preseason.