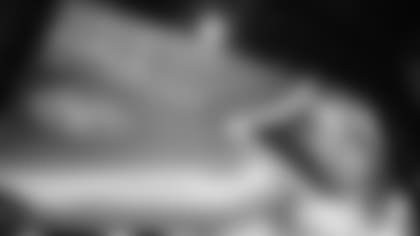 Defensive lineman Micheal Clemons was the 117th player chosen by the Jets on the third and final day of the 2022 NFL Draft in Las Vegas on Saturday.
In the numbers game, however, Clemons has a closer connection to the number 12. First, he's the 12th player from Texas A&M ever drafted by the Jets and he's among some notable company. Second, he's from the "12th man" school, part of a stirring tale that dates to 1922, 100 years ago.
Clemons (6-5, 270) is the second defensive lineman drafted by the Jets this year, joining Jermaine Johnson II who the Jets nabbed by trading up on Day 1 to take a third player in the first round. With the addition of Johnson, Clemons and Solomon Thomas signed in free agency -- plus the return of Carl Lawson from last year's season-ending injury -- coordinator Jeff Ulbrich and the rest of the Green & White has to be feeling good.
General manager Joe Douglas said that the Jets were drawn to Clemons' toughness and his physical prowess. Clemons is long and strong, and progressed each of his four seasons in College Station, TX. He had 13 QB hurries last season, 3 in a victory over Alabama. He finished the season with 7.5 sacks.
"I'm really excited to get up there and am extremely grateful to the organization," Clemons told reporters early Saturday afternoon. "I did an interview with the Jets just so they could get to know me as a person. We talked football and I knew they had some interest, but I didn't know whether or not they had this much interest."
With that 117th pick, the Jets draft brain trust was finished before lunch time. The team's seven picks added talent and depth, and was judged by many observers to be among the best drafts among the league's 32 teams. Douglas, though, was not as quick to pronounce the Jets' 2022 draft class a success ... yet.
"Ultimately, it's hard to judge a draft, you don't really know for three years," he said. "Before we judge or put anything on these guys, you have to realize that they all develop at a different rate. The last two years we've felt like a few things bounced our way too. But we've made the most of opportunities adding quality players and now we will see how it plays out. Nothing ever goes perfectly in terms of the draft."
Joe D. Praises Saleh and His Staff
Douglas had a better than average bet that the team the Jets put on the field in the 2021 NFL season would face its share of challenges. Building a foundation and changing the culture with a roster of young players was not an easy proposition.
"What we asked our coaching staff to do last year ... we had at least the first- or second-most rookie snaps in the league," Douglas said on Saturday from the team's draft HQ at the Atlantic Health Jets Training Center. "In this league, that's a hard thing for the coaching staff to do. It was not just guys dipping their toes in the water. They attacked it. They've developed young players, and that's the whole plan to benefit us in the future. We already have young players who have played a lot of quality NFL snaps. When called upon, they'll be ready. What he [Saleh] and his staff did, I can't say enough positive things about them."
Jeremy Ruckert Turned Heads at Senior Bowl
The Ohio State tight end, drafted by the Jets late in Round 3 on Friday night, is the team's third new tight end -- joining C.J. Uzomah and Tyler Conklin, both of whom were signed in free agency.
With the Jets coaching staff overseeing the National team at the Senior Bowl in Mobile, AL, in early January, the Green & White was afforded a unique opportunity to work with and learn about dozens of collegiate players hopeful of landing in the NFL. A foot injury limited Ruckert's time on the field, but Douglas and Saleh each had praise for the TE from Lindenhurst on Long Island.
"With the Combine guys can hide, with pro days guys can hide, on those visits to teams guys can hide," Saleh said. "But there's nothing like being in a meeting room after practice with these guys. That's when the stakes get high. If they're told they did something wrong, you want to see a response. That's harder to hide during the course of a week. Some guys think they're there just to put something on tape for the 30 other teams to watch. The interaction with him was tremendous. You get so much knowledge and access that you don't get at the Combine. What you're seeing is authentic in the meeting rooms."
For Douglas, the Jets involvement at the Senior Bowl was new and was an eye opener.
"I've never had that kind of access, the behind-the-scenes experience with players," Douglas said. "For me it was outstanding. After the college season was over it was really the last time players do anything football related. We got to have time with all these college all stars in a football setting, in meetings, on the practice field, watching them compete and seeing how locked into the message of the coaching staff they are. To really get a sense of what they're made of. It was an invaluable experience for our staff."
And for Ruckert, the time with the Jets proved invaluable and ultimately led to his selection.
Those Baseball Analogies Keep on Coming
The Jets made a deal with the Giants, moving up a couple of slots in the second round and landing Iowa State running back Breece Hall.
"The opportunity to add Breece was kind of a unique one," Saleh said. "He is explosive, and that group is pretty explosive between Micheal [Carter], Ty [Johnson], Tevin [Coleman] and [La'Mical] Perine. Breece never gets tackled by the first guy, he's slippery and makes guys miss. We have a really cool group to work with.
"And you add a guy like Breece, who's a home-run hitter. The goal is to add guys who when they touch the ball can take it 80 yards. One of the toughest things in football is to live in 10-play drives. And to be able to have a couple of one-, two-play drives every once in a while will be welcomed."
Not to be out-baseballed by his coach, Douglas added: "He's a home-run threat. He can score from anywhere on the field. He's another guy who can be a weapon in the pass game, good ball skills, tough to tackle in open space, one of more elusive guys in the backfield now."
Saleh said: "He's an absolute bulldog in the run game. Awesome."
Draft Capital: Spent
With their seven picks in the 2022 NFL Draft, the Jets have exhausted the draft capital they accrued in the trade of Jamal Adams to Seattle and Sam Darnold to Carolina.