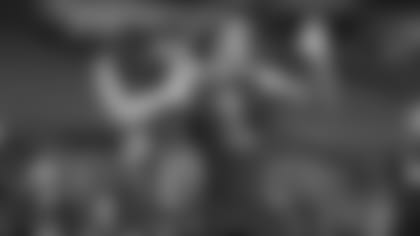 Quarterbacks typically drive the top of the NFL Draft and this April will be no different. The Jets, who own the No. 11 overall selection, already have their franchise signal-caller and will find a bigger pool of prospects to choose from if the 2020 QB Class rises in popularity. Smoke has billowed out of Indianapolis this week not only from legendary St. Elmo Steak House but also from the Indiana Convention Center with talk about a small-school prospect from Utah State: Jordan Love.
"Of all the quarterback names here in Indianapolis that have been buzzing the hallways, late-night bars and restaurants, Jordan Love much more so than anyone," NFL Network Insider Ian Rapoport said. "I've talked to general managers, assistant GMs, coaches, they all wanted to see how this guy threw because his buzz is kind of building. We've all kind of assumed that he's a first-round quarterback. I would not be surprised now, upper-end of the first round, maybe even heading up into the top-10."
ESPN draft guru Todd McShay called Love the "most underrated quarterback in this year's class" and declared that he'll be the third QB taken, putting money behind his prediction.
All fun aside (the McShay/Kiper wager will benefit The V Foundation for Cancer Research), the Jets figure to be operating at a position from strength if they stay at No. 11 or move out of their spot. Quarterbacks Joe Burrow (LSU) and Tua Tagovailoa (Alabama) both will be top 10 selections as Burrow is expected to go No. 1 overall to Cincinnati and a bidding war could ensue if Tagovailoa's has clean medical tests. Then how will teams stack Love and Oregon QB Justin Herbert on their draft boards?
The 6'4", 224-pound Love is a good athlete who ran the 40-yard dash in 4.74. Operating out of a spread, high-tempo offense, Love set Utah State records with 12 career 300-yard passing games and four completions of at least 80 yards. But last season, Love threw 20 TD passes while being victimized by 17 interceptions.
"Definitely the most important thing to me is being more consistent," he told reporters this week. "You watch my film and I've got some plays I'll make an incredible throw and the next thing you know is I'll miss a swing route on a check-down or something like that. Just being more consistent in all my throws, definitely my footwork in the pocket, being under center and doing drop backs like that is something I've been practicing on since the season ended."
While the Love chatter heated up in Indy, Herbert certainly didn't hurt himself with his on-field work. The 6'6", 236-pound Oregon product threw well and impressed with a 4.68 time in the 40-yard dash in addition to posting a 35.5 vertical jump. In 44 career games at Oregon, Herbert completed 64% of his passes for 10,541 yards with 95 TDs and 23 INTs.
"I've become more outgoing," Herbert said. "There are things you have to do to be a quarterback and the way a quarterback carries himself. I think I've done a great job of becoming that over these past four years."
The Green & White aren't sitting atop the draft, but GM Joe Douglas might be in a sweet spot nonetheless. The tackle and wide receiver classes are strong and the Jets have needs at both spots. Even if Love and Herbert don't go in the top 10 selections, the No. 11 slot may be a desirable spot for teams looking to make a move.
"I think there are two quarterback runs we're going to see. When you look at (picks) 5, 6 and 7, the Dolphins, the Chargers, the Panthers, potentially being quarterback teams," said NFL Network analyst Daniel Jeremiah. "But then this is the next run you're going to see ⁠— potentially, depending on what happens in free agency ⁠— 12 (Raiders), 13 (Colts), 14 (Buccaneers), I think we could see a couple guys in that range as well."
As he already showed at the trade deadline, Douglas will listen if teams call. A trade-back scenario would certainly not be out of the question and the value of the No. 11 pick could grow over the next two months. The more the fondness grows for Love and Herbert, the better for New York's AFC representative.