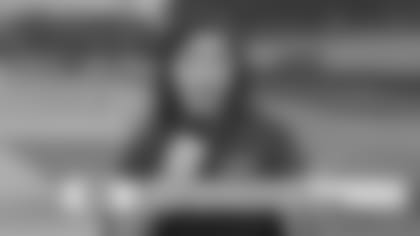 Judy Battista has been an active writer and reporter in pro sports, especially football, for more than 30 years. As a columnist for NFL.com, Battista also regularly makes broadcast appearances on NFL Network on multiple shows throughout the year.
Battista was recently a guest on The New YorkHER Podcast to share her experiences as a female writer in a male-dominated industry and discusses how she's narrowed her reporting down to an exact science.
"You have to figure out what fans want to read about — which to be honest, is usually the star," Battista said. "Casual fans care about the stars. I think one thing you learn about football as a writer is that when in doubt, write the quarterback. Everybody cares about the quarterback. Most devoted fans will read anything, including an article about the backup guard. But if you're trying to reach the broadest audience — which I think we all are — you write about the stars. That is especially true with the quarterback."
She added: "You have to also give the more hard-core fans what they want, and they will consume everything, including the real nitty-gritty roster construction, salary cap space, what the salary cap will look like, the draft, etc."
A graduate of the University of Miami, Battista grew up in South Florida as a sports nut. In college she majored in journalism and political science and received her first big break as a news reporter for The Miami Herald in 1990. It only took two years before the talented young journalist switched to covering sports, with stops at Newsday, The New York Times, and NFL.com covering multiple sports along the way.
Despite being successful and producing outstanding work, however, Battista also experienced many obstacles throughout her sports career.
"I think the basic hurdle that you have to overcome as a woman in the business is that you have to prove to people that you know what you're talking about," Battista said. "And the only way to do that is through your work. Your work has to be very strong. I have often felt like, 'you better not make a mistake,' because if you make one as a woman, people may think it happened because you're a woman. There's a higher standard and a higher bar that we have to reach for people to take us seriously."
Through her coverage and writing on the NFL Draft, Super Bowls and the NFL Combine, Battista has become one of the most well-respected writers around the league.
"Sports have given me my entire career, and for that I'm grateful," Battista said. "My husband is a sportswriter, too, so it's also given me that. It's also given me some amazing experiences that make me step back and think, 'wow this is so cool.' I still get excited on Super Bowl Sunday, remembering that I get to go to it and that's just an incredible experience that most people don't get. It just reminds me that my job is very special, and I get opportunities that most people don't get, and I have to remind myself not to take it for granted. That's what sports have given me."