Last season, the Jets finished 29th in scoring (18.1 points per game), 31st in passing (183.2 yards per game) and 25th in total offense (318.1 ypg).  But they have made a number of moves in free agency to bolster Marty Mornhinweg's unit and NFL.com's Chris Wesseling believes they are one of the five-most improved offenses since the end of 2013 campaign.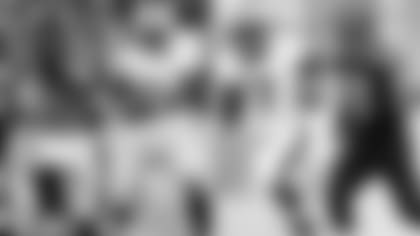 3. New York Jets
Additions: Michael Vick, Eric Decker, Jacoby Ford, Breno Giacomini
Vick adds legitimacy to Marty Mornhinweg's offense. The QB's injury history is less of a concern with Geno Smith as a capable backup with potential. Don't be surprised if Decker produces the best statistical season by a Jets wide receiver since Laveranues Coles' glory days. Ford is an intriguing flier if he's finally over foot and knee injuries. I can't get this dominant 2010 performance out of my mind, when Ford racked up 306 all-purpose yards in an overtime victory -- followed up by 316 yards two weeks later.
The next step is adding speed in the form of Chris Johnson, who is expected to be released by the Titans on Friday or very early Monday morning. The Jets widely are viewed as the favorites for his services.
EA Takeaways*: *The Jets signed Vick to push Geno Smith.  John Idzik's mantra is competition and the Green & White got better by adding the top QB on the market.  Coles had a pair of true stints with the Jets and his glory days in New York were the 2002 and '06 seasons as he averaged 90 catches, 1,181 yards and 6 TDs.  Can Decker come close to duplicating the production he had the past two seasons in Denver when he averaged 86 catches, 1,175 yards and 12 TDs?  The Jets don't figure to be done adding to the wide receiver position yet with 12 draft selections.  Ford was a low risk move and the sprinter has the speed to make teams pay — both on special teams and on offense. The Titans released the explosive Johnson and CJ2K will certainly draw plenty of attention on the open market.