The Jets had a formidable rush attack in 2013, but*they could be even more proficient on the ground next season. After finishing sixth in both yards per game (134.9) and rushes of 20 yards (14), the Green & White added the dynamic Chris Johnson to an already talented stable of backs. *
"We have two Chrises – those 2 as 1-2 punch could be pretty deadly, and you have Bilal who is just an outstanding player in that mix," said Jets offensive coordinator Marty Mornhinweg.
Johnson, a 5'11" 203-pounder, has averaged 4.6 yards a carry throughout his career and scored 50 TDs on the ground.  Mornhinweg also likes to throw to his RBs and Johnson possesses good hands and rare speed.
"Chris is one of those uncommon players where if you give him some space — if he gets to some air — he can score from anywhere on the field," said the Jets OC.
NFL Media analyst Bucky Brooks concurs with Mornhinweg, ranking Chris Ivory![](/team/roster/chris-ivory/6080c292-5d9c-4f52-92e4-4b5262d8bbd4/ "Chris Ivory") and Chris Johnson in the Top 5 of his RB tandems.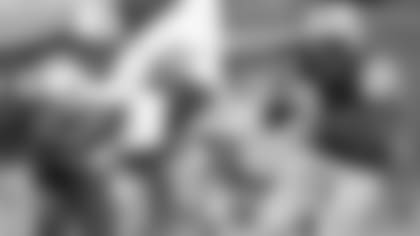 4) New York Jets: Chris Johnson and Chris Ivory
The appearance of the Jets' backfield tandem on this list might surprise some observers, but coach Rex Ryan's updated version of "ground and pound" will open eyes in the fall. The reports of CJ2K's demise have been greatly exaggerated. At the end of the day, the guy posted six straight 1,000-yard seasons in an offense that lacked a viable option at quarterback for most of his Titans career. Although he seemingly has lost a step at his advanced age (he'll turn 29 in September), Johnson remains one of the most explosive runners at the position, with 68 runs of 20-plus yards in his career.
Ivory, a fifth-year pro with 2,140 career rushing yards, has shown signs of blossoming into a solid feature back in a power-based offense. He attacks the edges with speed and quickness, but he's at his best hitting gaps between the tackles on downhill runs. Ivory's physical running style overwhelms defenders at the point of attack, resulting in big gains in the late stages of the game. More importantly, Ivory's willingness to grind embodies the blue-collar mentality that Ryan wants from his offense in 2014.