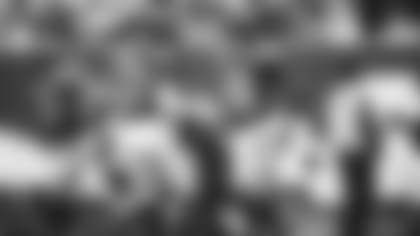 Jets head coach Robert Saleh said this past summer that he learned not to be afraid to play his young players.
"They're hell on wheels and they're fun to watch," Saleh said at the time.
Months later, the Jets' young cornerbacks have come on strong. Week 1 starters Bryce Hall (second-year player) and Brandin Echols (rookie sixth-round pick) each registering 3 pass defenses against the Dolphins in Week 15. Echols hadhis first career interception, a pick-6 that tied the game in the fourth quarter.
"Props to Marquand Manuel and Tony Oden, also Ricky Manning," Saleh said on Monday, referring to assistant coaches. "They're doing a really good job with that backend. Super young group. With Bryce Hall and Echols, even [Javelin] Guidry and Michael Carter II, I mean young Michael Carter is a rookie playing nickel at a high level. So, they've done a really nice job. I always challenge them that they got to get the ball, that's the next step that group has got to take and we did get the pick-six, which was awesome. But that's the next step. Can we go get the football?
"It's really cool to see them getting their PBUs and playing sticky coverage in man. When we get more rush from the outside and the rush and coverage starts tying in together, it can become a bit special. They've developed really nicely and they've proven that they're NFL players. Now the next step for them is to prove that they're NFL difference makers and you do that by taking the ball, which we did [Sunday]."
Echols, who is nominated for Pepsi Zero Sugar Rookie of the Week, leads all NFL cornerbacks with a 93.3 coverage grade in Week 15 according to Pro Football Focus, and fifth overall with an 84.2 overall grade. The Kentucky product has started all 11 games he's played in -- he missed three games with a quad injury -- ranks second on the team with 7 PDs with his 49 tackles and 1 tackle for loss. His 542 snaps ranks eighth on the defense. 
"I'm glad [the injury] happened because I could sit back and reflect on myself as a person and see what I needed to work on and be done," Echols said. "I really think me getting sidelined was a good thing." He added: "I feel like I've grown a lot, especially with confidence. I'll speak for all the other [Jets] rookies – just the confidence to get better every week going against different teams and not going out there panicking."
Opposite him is Hall, who leads the defense with 944 snaps and 13 PDs. A 2020 fifth-round pick out of Virginia, Hall entered the season with 7 starts, all coming from the back-half of last season after recovering from an injury that cut his senior season short.
Entering Sunday's game, Hall allowed a total of 15 yards in Weeks 13-14. Sunday against the Dolphins, he was a part of the reason Miami QB Tua Tagovailoa completed 59.26% of his passes, his lowest mark since Week 8. His 196 yards was the fewest in a start all season (he got hurt in Week 2 and didn't finish the game) and his 2 INTs tied a season high.
"We really didn't change too much from last time we played him," Hall said. "We felt like we were right there with them and had we not beat ourselves, we felt like we would've really played a solid game. The gameplan hadn't really changed from last time. We wanted to be tight in coverage, be aggressive and force him to throw contested balls. Our coach challenged us to come away with some takeaways and that was our plan. We felt like we could be in position to get some takeaways."
See All of the Top Images from the Week 15 Matchup