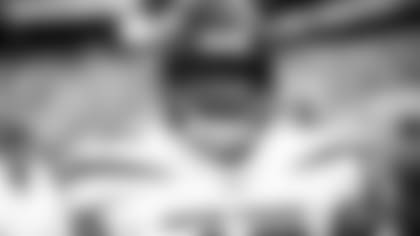 Fifth-year linebacker Neville Hewitt is fully embracing the "next-man-up" mentality. After starting ILB Avery Williamson was placed on injured reserve following a collision with CB Tevaughn Campbell in the Jets' game against the Falcons, Hewitt has been taking first-team reps at weakside linebacker.
"All of us prepare as a starter, so whenever your number is called, you expect to play at a certain level," Hewitt said. "That's how I prepare. Since my second year in the league, I've had coaches that say you have to prepare every game like a starter. I had roles in Miami where I had to elevate my game early on in my career. That's the mentality that I've always had with Coach Gase."
After entering the league undrafted in 2015, Hewitt played three seasons for the Dolphins and racked up 101 tackles, one sack, four pass defenses and one interception before ending up with the Jets last year. The 26-year-old 'backer played in sixteen contests for the Green and White in 2018, totaling 39 tackles and 1.5 sacks.
"He's a fierce competitor and he loves to hit… But he's a playmaker," ILB C.J. Mosley said of Hewitt. "He's going to run around and try to make plays. When guys get tired, you see somebody make a big hit or run to the ball like he does, he brings that intensity in guys."
With training camp winding down and the regular season quickly approaching, Hewitt continues to prove himself a versatile option for the defense at both inside spots.
"I've been playing both positions, so I've been prepared to play. It's very unfortunate what happened to Avery and it bothers all of us. But as you can see, everyone in that room has been playing at a high level," Hewitt said. "Everybody has been getting better. Since day one to now, we're getting our hands on a lot more balls, making a lot of tackles, and our names are just coming up every week."