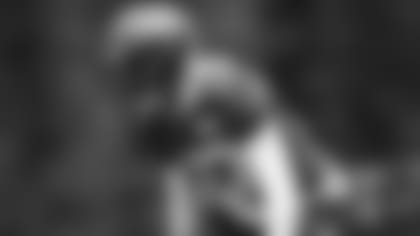 This time last year Bryce Hall was moving cautiously around the Jets Atlantic Health Training Center, a cast protecting his left leg and ankle.
In Virginia's sixth game of the 2019 college season, Hall was part of punt coverage in an ACC game against Miami. Trying to hold a block for a Cavaliers' returner, he was driven back over a fallen Miami player. His foot was caught under the player while Hall's body continued toward the turf. He sustained a fractured fibula and dislocated ankle.
Hall, a cornerback, had been projected as a possible first- or second-round draft pick, but the gruesome injury, which required surgery, and the prospect of an uncertain recovery changed all that.
"Obviously, last spring I was in a cast trying to run again," Hall said during the team's voluntary OTAs. "Now I have the opportunity to run, move around. I've had the opportunity to lift, get my legs stronger and it's just been really good. I've learned not to take my health for granted."
Leading up to the 2020 NFL Draft, Jets GM Joe Douglas and his player personnel staff saw something in Hall (6-1, 202), and used a fifth-round pick, No. 158 overall, to take a chance. In 2018 at Virginia, Hall led the nation with 24 PDs and was named All-ACC first team and All-America second team. Before sustaining the fractured ankle injury last year, he tallied 20 tackles, 3 TFL, 1 sack and 4 PDs.
"I got activated the first week [Game 9 vs. the Patriots]," he said. "The next week I was thrown into the fire. I think just having the experience to go out there and hold my own, even without preparation ahead of time, has given me confidence and shown me how the mental aspect of the game is really very, very important. If I can have the right mindset as well as have a good understanding of the game it will go a long way, even when your physical attributes are not at an elite level."
In eight games (seven starts) last season, Hall, 23, made 33 solo tackles and snagged an interception -- a one-handed grab against the Los Angeles Rams in the Jets' first victory of the 2020 season. Now, several months before the start of the 2021 NFL season (at Carolina in Week 1), Hall could join Bless Austin as starters on the outside. Day 3 of the draft for the Jets was all about defense when Douglas took corners – Michael Carter II (Duke), Jason Pinnock (Pittsburgh) and Brandin Echols (Kentucky).
"Thankfully, when I was a rookie I had older guys that really helped me out," Hall said. "In the same way, I just plan on passing that along. It's just who I am. Help one another. It's a brotherhood. It's a bond."
Hall and his teammates, be they returning players or the contingent of free agents and draftees, are acclimating and getting acquainted with the Jets' new coaching staff, and new schemes on offense and defense.
"I love them," Hall said about the coaching staff. "One of the biggest things, too, is that they're great people. They really harp on doing everything that makes you better in life as a man, on and off the field. When it's time to work they are smart and people oriented, you have fun while you're doing it. It's something I appreciate. Energy on and off the field. They bring a lot of joy and fun to this business, which can be stressful. I just love the way they bring that mentality."