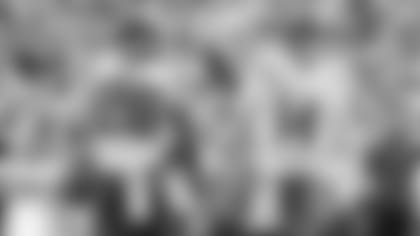 Even though new Jets T George Fant has played his entire four-year career in Seattle, he's familiar with a handful of his new teammates including the player he'll be protecting, QB Sam Darnold.
"We have a lot of mutual friends and I've been hearing a lot about him being on the West Coast," Fant said of the USC product. "I watched him since he's been in the league and I'm really excited to play with him. I think I'm most excited to play with him. Just watching him and getting on the field with him, watching how good of a leader he is, I'm excited about that."
Fant, who agreed to terms with the Green & White in March, added he remembered watching Darnold's pro day leading up the 2018 NFL Draft. In addition to blocking for the 22-year-old signal-caller, Fant, along with the rest of the offensive line, will be tasked with opening holes for the Jets backfield that includes two-time first-team All-Pro Le'Veon Bell and Frank Gore, the NFL's third all-time rusher.
"I'm excited, man. I'm ready to go out there and play, whatever I can do to help the team win and get those guys loose and in space," said Fant. "I've watched Le'Veon from a distance I'm sure like everyone else has from his time in Pittsburgh and New York last year. He's a really good player, he has great patience, he's really explosive, he's elusive. I'm really excited to play with him. I've played with some good backs in my time so far and I think once we get together and get a feel of each together, we'll be just fine."
With the offseason program being virtual, the biggest challenge right now is learning your new teammates both personally and their preferences on the field. Bell has a unique, patient running style that they can discuss in virtual meetings or get a better feel for by watching film, but there's no substitute for practice reps. But first, the Jets OL needs to jell. The group has one returning opening-day starter (Brian Winters) and seven new faces. Fant, however, is somewhat familiar with Mekhi Becton, who was selected No. 11 overall in last month's draft.
"I've been watching him. I'm from the Kentucky area, so I've been watching a little bit at Louisville," Fant said. "He played against my school, so I've definitely seen him on film. He's a really good player, man. I'm excited to work with him and give him a little bit of the wisdom I've learned from great players that I've been playing with. I think the good thing about both of us is that we're really raw and athletic. We bring a lot to the table, so I can tell him a couple things that have worked for me and we'll ?? keep learning from each other.
"He's a huge dude, man. He can move pretty well laterally. He's just a mountain of a man. It's a lot to run through him. I think he just has to keep working on his game. He has great feet, he's very athletic, he just has to go out there and keeping working and learning from everybody and he'll be just fine."