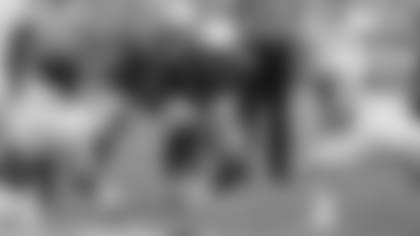 Jets fourth-round pick T Cameron Clark improved each year at Charlotte but took off in 2019 under the tutelage of Alex Atkins, his sixth and final offensive line coach, who was also the team's offensive coordinator.
"He's been a guy that's been with the program for five years and really progressed as his career went along kind of like the program did," said David Scott of the Charlotte Observer regarding Clark. "Charlotte has only had a football team for seven years, so he was one of the first recruiting classes that this school even had. When he came in, he was more of an FCS prospect rather than an FBS. He made a whole lot of progress throughout his career and so did the program, which had their first winning season in school history last year and went to [their first] bowl game. He kind of mirrored what's been happening at Charlotte.
"He took great leaps his senior year with the new coaching staff, new offensive coordinator, OL coach, who is the same guy. He really managed to bloom under that."
Atkins spent one season with the 49ers before accepting a position to be Florida State's OL coach. Clark said he jelled with Atkins because of their dedication to their craft, saying, "He pushed me to be the best that I could be on the daily. [On] tough days, hard days, some coaches would pull back on you. When he had those opportunities, that's when he would jump on me more. His standard that he set for me is extremely high and I try to reach it every day."
Clark's game first took a jump from 2017 — when he was named Offensive Team MVP despite starting just eight games — to 2018 when Will Healy took over as 49ers head coach. Healy installed a spread offense with mobile QB Chris Reynolds under center and Scott said Clark made the transition seamlessly.
"The offensive line had to be mobile and be able to move around," Scott said. "Cam was able to do that as a tackle and I think that's one thing that'll probably help him in the NFL. If they move him to guard, he has the footwork and has the ability and the agility to move around. I think that's going to help him. … When the pocket is moving around like that, that's a challenge for the offensive line and Cam was one of the guys who was able to adjust to it and do it well."
Clark recently told the media that he's learning both tackle and guard positions as he transitions to the NFL. He only played left tackle at Charlotte but is confident he'll be able to learn and play whatever position the Jets' coaching staff needs him to. He's practiced at guard before and said the biggest difference is that the bullets fly faster inside at G compared to T.
As Clark transitions from a Group-of-Five conference to the NFL, Scott believes he's more pro-ready in pass protection compared to run blocking.
"[Charlotte] wasn't your traditional line-them-up-and-knock-them-down kind of thing," he said. "Cam is not probably used to that as much as he is to being able to move around. In pass protection, he had to do a lot of things differently because of the different style of offense they played. He's probably more ready for that with his agility, his footwork, how he uses his hands. He's probably going to have to bulk up and get a little stronger to help out in the running game more."