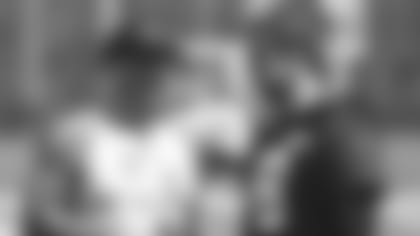 This is one in a series of articles that will also appear in the New York Jets 2023 Yearbook, which will be published later this summer.
Jets offensive coordinator Nathaniel Hackett could have had his feet in the sand away from the NFL this season, but the draw of the Green & White was too strong. One word sums up Hackett's decision: familiarity.
Familiarity with the coaching staff, the organization and the quarterback.
Hackett worked with HC Robert Saleh in Jacksonville from 2015-16, when he was the quarterbacks coach and Saleh the linebackers coach. Hackett has also overlapped with LB coach Mike Rutenberg, TE coach Ron Middleton, DL coach Aaron Whitecotton and WR coach Zach Azzanni.
"That was really important to me, to be able to come back into this and work with someone that I respect as much as Robert," Hackett said. "There are so many familiar faces and people that I trust and really respect. Then to get a guy like Todd Downing and Keith Carter and all those guys I've been with, it looked like a great group of guys."
Hackett's father, Paul, was the Jets' offensive coordinator from 2001-04.
"I had a great time here when I would come visit my father when he was at the New York Jets," he said. "The last time the division was won [2002] was when he was the offensive coordinator here, so I think to be able to do that and be part of something that my dad had started all the way back with Chad Pennington and Curtis Martin is special. We use their tape to install to the guys."
When Hackett took the job in January, he didn't know he'd be reunited with QB Aaron Rodgers. They had a short and successful time together in their three Green Bay seasons. Rodgers threw for 12,416 yards, 111 touchdowns and 13 interceptions, completed 67% of his passes, and won back-to-back MVPs in 2020-21 under Hackett's tutelage.
"We have a very strong relationship," Hackett said. "We've been together a bunch of years and I'm just lucky to have a guy like him in my life. We're excited to be here together. It's not just about him, not just about me. It's about everybody, all the coaching staff and the players. It'll be fun to unify everybody and get going."
Rodgers said of Hackett: "I love him like a brother. I believe in him. I'm really happy to be back working with him again."