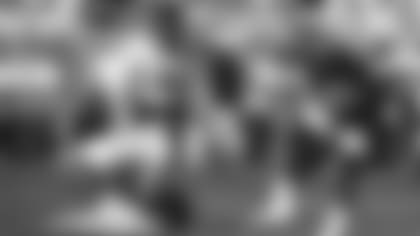 Shortly after Chandler Catanzaro stated his intentions to retire from the league, the Jets immediately turned to someone they had in camp last year in Taylor Bertolet.
"I thought I had a great camp last year, a great preseason and I'm glad to be back here," said Bertolet, who was successful on all four of his field goal attempts he attempted in the 2018 preseason. "It feels welcoming to be back here and I'm looking forward to continuing to build on that."
After spending the summer with the Jets, Bertolet headed off to play for the Salt Lake Stallions of the Alliance of American Football. He connected on 9-of-14 FG attempts, with his longest make going for 54 yards in Week 3. He then joined the Broncos in April but was later waived in July.
In between his football stints, Bertolet remained committed to the sports world, but in a much different way.
"In between playing I've been going back to grad school. I actually just finished my graduate degree in sports psychology from Cal State Fullerton," Bertolet said. "It's kind of my passion outside of kicking, working with athletes on the mental side of the game. I think it's a big thing that's helped me prepare to be a kicker."
When asked how his time in sports psychology has helped contribute to his overall kicking game, the 5'9", 188-pounder didn't hesitate.
"To see pressure as a privilege, to trust your skills and not go out and overthink about your technique or your mechanics, and to just let your body do what it's meant to naturally do," Bertolet said. "Pressure situations is what I do as a kicker — your job is to handle pressure. So, I think it's helped me to be prepared to be in those moments and have a routine and have a process that you can go into and buy into. That's going to help you be more successful and be more consistent in your performance."
Although Bertolet has never kicked in a regular-season NFL game, Jets head coach Adam Gase had a favorable early impression of the Texas A&M product.
"This is where we're at right now," Gase said. "We'll kind of see how everything goes. What I saw today, I was pretty impressed. It sounded good coming off his foot."
As Bertolet gets thrown into the mid-camp mix, his attention has shifted to showing consistency.
"To me it's the same thing, it's the same yellow poles that I'm going to go kick through. It's the same pressure as a preseason game or if we're out here in practice, so I'm not going to treat it any differently," he said. "It's a process to deal with, not getting into regular season but looking forward to hopefully getting that opportunity this year."