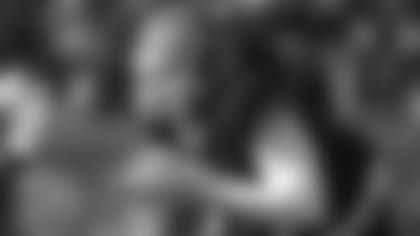 New Jets DL Jabari Zuniga made it clear back in April that he views himself as the "steal of the draft." After spending four seasons in Gainesville as a Florida Gator, the Orlando Sentinel's Edgar Thompson agrees.
"A lot of people would argue the Jets got very good value with the Zuniga pick for sure," said Thompson, the Sentinel's Gators beatwriter. "Jabari, he was a top 50 pick coming into last season in a lot of peoples' estimation. … He was a very productive player and durable. You could count on him, and then suddenly he spends his whole senior year on the bench. That was pretty tough for him and it was tough for the Gators."
The 6'3", 264-pounder actually was limited as a senior to just six contests due to a high ankle sprain, but still managed to record 7 tackles for loss and 3 sacks. Over his collegiate career, Zuniga totaled 118 tackles, 34.5 TFL, 1 FF and 18.5 sacks in 42 games. He topped off his collegiate stats with a head-turning performance at the 2020 NFL Combine.
"Jabari is good at the point of attack and he's a very physical guy, very strong," said Thompson. "His combine numbers were incredible ... He's an impressive physical specimen, so he can get after the passer, too. He's kind of a good combination guy there."
When it comes to where Zuniga sees himself fitting along the line, his options could be endless. The 22-year-old played most of his career on the strong side for the Gators, but he has what many analysts describe as "raw potential." He'll be joining a Gregg Williams defensive scheme, one known for its versatility and ability to play to players' strengths.
"He played on the strong side for the Gators but seems like a weakside end at his size and with his skills," Thompson said. "He's got a lot of speed to the quarterback, he's probably got to get some pass rush moves in there and work on that part of his game, but he's got tremendous speed — 4.64 at the combine, almost as fast as [La'Mical] Perine [who ran a 4.62 in the 40] and he outweighs him by 50 pounds."
Zuniga's talents will add to a Williams defense that ranked seventh overall in the league and second against the run in 2019. He may also have the opportunity to feel closer to home than usual, as he joins a Green & White roster that already contains five other former Florida players.
"He's a real physical specimen and there's a lot of potential there," said Thompson. "He may be a little raw and he's certainly going to have to learn some things. But anybody coming into the league, even the best players, have to learn. He's going to find a spot on that D-line, it just comes down to what the scheme is."