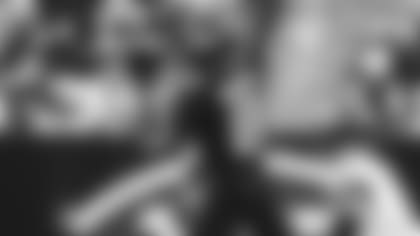 It was in some respects a mixed bag of a season for Jets rookie WR Elijah Moore. He battled a quadriceps injury for much of August, a concussion in late September, then a return of the quad strain and a bout with COVID in December.
Yet Moore shrugged it all off and, in his first season of professional football, passed his personal "lit-ness" test.
"That feeling is unmatched," Moore said of getting a crowd roaring with his plays on the field. "When the fans are going crazy, they're happy and excited and having a good time. That's what everyone in the stadium wants. More eyes, more lit-ness."
Moore in his end-of-season interviews went over his season, and a fine one it was despite the curveballs and setbacks he suffered. In his 11 games he had 43 catches for team-leading totals of 538 receiving yards and five receiving TDs. Twenty-five of his catches went for first downs, also the best on the team. His six total TDs were the most by a Jets rookie since Geno Smith ran for six scores in 2013 and the most by a Jets rookie WR since Keyshawn Johnson set the rookie mark with eight receiving TDs in 1996.
"It was really just the mental aspect of it. The more games you're out there, the more comfortable you get," Moore said of his season achieving liftoff (into the lit-mosphere?). "Seeing the picture, seeing the defense, and knowing what they're going to do, week in and week out studying defenses, knowing what they're thinking about, too. Also, just getting more comfortable with Zach and every other quarterback that I was in with. Definitely a challenge but a blessing of being able to adjust. Looking over all of it, I'm just grateful that I got the opportunity to come play a rookie season at a place like this."
What was his favorite six-pointer? One immediately came to mind.
"Probably the Dolphins touchdown," he said of his 62-yard catch-and-run from Joe Flacco in Game 10 at MetLife. "The way the fans erupted when I got in the endzone, it was unreal. In this league, you don't ever know [if a given play will produce a TD]. You're always put in the position where, anything can happen. I just always prepare my mind that every time I touch the ball it could be a possible touchdown."
The religious Moore never doubted that he had those plays in him upon leaving Ole Miss for the next level.
"I always knew I could do it. I've got God on my side, so that's something I never questioned," he said. "But definitely having those moments of learning what I can do, seeing what works and what doesn't, seeing what I need to work on so I can do it better — it was just all a learning lesson. Every game was another opportunity for me to learn something. I'm definitely grateful."
He also is eager to continue to learn together with his now second-year QB teammate in Wilson.
"Definitely the connection on and off the field is very, very important, and that's something we plan on working on as soon as today is over with," he said. "Have a little break, try to exhale everything that happened, go over everything and make our list of what we need to work on, and then start back over. I am definitely looking forward to it."
And even though the Jets offense suffered bumps and slumps over the course of their 17 games, Moore remains confident that he, Wilson, RB Michael Carter, G Austin Vera-Tucker and the rest of the Jets, young and old, can pass their own lit-ness test in the foreseeable future.
"Fun to watch, especially with how I know we work," he said of his offense's prospects. "Being in the building with those guys [Zach and AVT], it definitely felt like God chose it. I've been around them; I've seen how hard they work. They work just like me, which Id like to say is compared to none. I feel like I work extremely hard. Seeing those guys at different positions and wanting to grind, and wanting it this badly as a group, I'm grateful we're all here together."
See All of the Top Images from the Green & White's 2021 Season