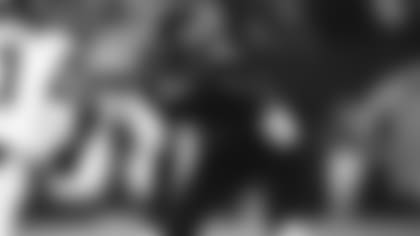 When Peter King talks, football folks listen. And what the legendary NBC Sports analyst, Sports Illustrated icon and five-book author said during last week's NFL Annual Meeting in Phoenix will have Jets fans thinking hard about their team's recent low profile on the NFL's national stages.
Short answer: Those days are over.
"Last year, the Jets had the mandatory national TV game, primetime against the Jaguars," King told newyorkjets.com's Eric Allen in this week's Official Jets Podcast. "This year, I think they're going to go up to 10 or 11 national appearances. And that encompasses doubleheader games on CBS and Fox in the late Sunday afternoon window, that encompasses one or two Sunday night games, probably early in the season, and that encompasses a Monday night game, maybe two. And then obviously the [TNF] Amazon game.
"I know probably Jets fans have been very used to going to church, getting a bagel, getting home, and five minutes to one turning on their game because that's when all the games have been played basically in the lifetime of almost every Jets fan. But that's going to change this year and you're going to have to work on changing your schedule."
King kids, of course. For the first half of the 2010s, the Jets weren't a hot ticket but they were in the middle of the pack when it came to primetime exposure. But beginning in 2017, which was two seasons removed from their last swing at the postseason dance in '15, the Green & White have been confined for the most part to games in the daylight. In the past six seasons, they have averaged 12.2 starts at 1 p.m., topped by last season's franchise-record 14 one o'clockers. Their 10 primetime games in those seasons are the fourth-fewest among the league's 32 teams. Their last MNF game came in 2020, their last Sunday night game a decade ago in 2011.
What changed? We don't have to tell you. The much anticipated trade of Aaron Rodgers combined with the third year of HC Robert Saleh's culture shift and their exciting young lineup in King's mind will have turned the tide when the schedule is expected to be released early next month. King had no blockbuster inside info on the Jets-Packers trade conditions that will free Rodgers to migrate from 1265 Lombardi Ave. to One Jets Drive. But he offered his take on when the deal will finally get done.
"People have sort of said, 'Look, they don't really need to do it until they get close to training camp,' " King said. "I say, well, wait a minute. The NFL can't release the schedule, seriously, until Aaron Rodgers is a Jet. That's why in my opinion there's no way this goes much past the draft. And I think it'll go before the draft, because obviously the Jets are going to want to know, Green Bay is going to want to know, and Green Bay is going to want that second-round pick off the Jets in 2023."
There will always be some pessimists who will first want to see the trade consummated, then observe Rodgers, at 39 years of age, show he's still got everything he had in his glorious Packers career, including among many other achievements his three 13-win seasons and two league MVP awards from 2019-21.
And the NFL and its fans have yet to show they're tired of watching No. 12 in green and gold at work. We crunched all teams' night regular-season games since 2011, and almost any way you break it down, from 2017-22, 2012-22, 2011-22, the QB and team with the most primetime appearances isn't Tom Brady and the Patriots, Ben Roethlisberger and the Steelers or "America's Team," the Cowboys.
It's Rodgers and the Packers. Their 62 primetime games the last dozen seasons top the Cowboys, 62-59. And since '18, when Patrick Mahomes became the Chiefs' starter, Rodgers and the Pack have edged Magic Man and his KC band, 27 prime games to 26.
"Aaron Rodgers is what Tom Brady was five years ago," King said. "Whether you love him or hate him, you're going to watch him, and people will turn on the TV."
Which week will fans turn on their devices to watch the Jets in prime time? King thinks it's Opening Weekend but not against the opponents many would think.
"If the NFL wanted to get a monster number on the Sunday night game to start the season, that'd be the Jets and Dallas. That'd be one of the three biggest ratings of the year," he said. "But I think the NFL feels, 'Why would we put Dallas and the Jets in Week 1? We need to save that for one of our huge national windows.'
"But I think you're more likely to see, pick an opponent ... Jets-Bills that first weekend. We'll see. But the Jets will be in a national game in Week 1."
PK had many more thoughts that he shared with EA in the interview, such as the trade compensation he sees the Jets and Packers ultimately agreeing to, what Rodgers' motivation will be in '23 assuming the deal gets done, and what King likes and doesn't like about the Green & White roster and the recent moves GM Joe Douglas and company have made. It's all there on The Official Jets Podcast.