Muhammad Wilkerson entered this week with 16 career sacks. On Tuesday night, he added 200 more to his total.
Returning to the place where he spent the first decade of his life, Wilkerson passed out Thanksgiving meals — turkey, iced tea and a "sack" of sides — to 200 families residing in his former housing complex, the Oakwood Plaza Apartments in Elizabeth, NJ.
"Being born and raised right across the street, this is like home to me," Wilkerson said. "It's a tribute to everybody who helped out some way in the community. My grandmother still lives here, so it's great to give back and help out as best I can."
Teammates Sheldon Richardson and Santonio Holmes joined Muhammad at the Elizabeth Fire Department to help hand out the dinners for the Thanksgiving "Sacks" event.
"I came to support Mo," Richardson said. "It's Thanksgiving, I'm thankful for a lot of things. It's my responsibility to give back a little bit, so I'm helping out as much as I can."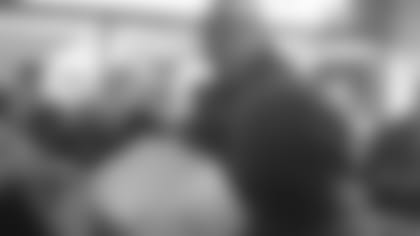 For Holmes, the opportunity to show support for his teammate was one reason he came out to the event, but it was also a chance to return to a place near where he called home for his first two years with the Jets.
"This is who I am outside of the helmet," Santonio said. "I come from a very poor family, and the opportunity that I presented to my family to be successful and to have the opportunities to have things, it's only fair that we give back to those that don't have."
Muhammad's mother, Janice Wilkerson, was "amazed," though not surprised, by her son's goodwill.
"This is where we come from," she said, "this is where Muhammad started playing football, so it's great for us to come back. I'm a social worker by trade, so to help people is what I do. I do that all the time, so I've trickled that down to my kids and Muhammad loves to help. He always said if he ever made it, he would go back to his community and give back."
As one of the best defensive linemen in the NFL, it's safe to say he's made it. He stayed true to his word, going back to his community and giving back on Tuesday night for what both he and his mother assured will become an annual tradition.
"Words can't express how I feel right now just to help out people some way, somehow for this holiday," Muhammad said. "Some of those people that were in line were great friends and family members, so it's great to help them out. That's what Thanksgiving's all about, thanking and blessing other people."