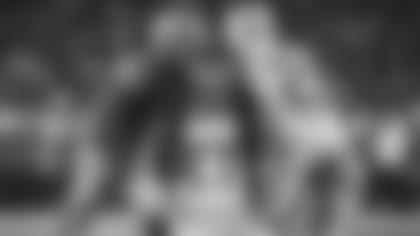 When the Jets take the field Monday night in Detroit, one of the main storylines will be the Green & White's secondary, New Jack City, vs. Lions quarterback Matt Stafford & Co.
"He's not scared to take chances with the ball," cornerback Morris Claiborne said. "He's a smart guy, he knows the coverages and stuff like that. He's not afraid to take those deep shots down the field, throwing it in space and stuff like that. He's going to try to fit it into those small windows and half of the time he completes those balls. He's gifted at it."
Last season, Stafford led the No. 6-ranked aerial attack as he completed 66% of his passes and threw for 4,446 yards, 29 touchdowns and 10 interceptions. The Lions have two very talented receivers in Golden Tate and Marvin Jones, who both recorded 1,000-yard seasons in 2017. While both are productive, Claiborne believes the offense is centered around Tate as he's had at least 90 catches each season since joining the Lions in 2014.
"Being the type of receiver that he is, a lot of things start in motion with him," Claiborne said. "Everything starts with him. The two guys they have on the outside, especially Marvin, he's one of their top guys and a deep threat. He has a big catch radius and he can go up and get the ball. It doesn't matter where he puts it at. Their offense is pretty balanced overall."
According to Claiborne, the Lions offense becomes dangerous when Stafford rolls out of the pocket because their receivers are taught to convert their routes.
"If you're going short, go deep and if you're deep, then come short," he said. "He's good at it when he gets out there. That's going to make us stay in coverage that much longer. When he gets out of the pocket, it has to be instant thinking to stay with your man throughout the whole play until the whistle is blown."
Monday night will be a good test for not just the secondary but the 2018 Jets. The team will be amped up as it's the first taste of regular-season football in nine months, not to mention the game is in the national spotlight.
"I feel good about us in our first game," Claiborne said. "I feel good about everything. Just patiently waiting for it to come. We'll continue to prepare up to that day.
"The world will be watching us. That's what we get out of that. You definitely can put yourself on or knock yourself off."