The Jets held a Season Ticket Holder conference call Thursday featuring all three of the team's coordinators: OC Marty Mornhinweg, DC Dennis Thurman and STC Thomas McGaughey.  More than 2,500 Jets STH participated in the call and — as expected —more than a few folks inquired about Mike Vick and the offense.
"It may not quite be like the competition that we had last year where everything is 50/50.  Mike has all that experience," said Mornhinweg.  "We're trying to continue the progression with Geno and then have Mike ready to go.  It's just that simple and Mike knows exactly what the expectations and role that he has and Geno knows the exact expectations as does Matt (Simms) and Tajh (Body).  It's just that simple."
Mornhinweg informed the STH that veteran RG Willie Colon had a "minor" arthroscopic procedure on his knee today and he will be back before training camp.  Oday Aboushi, a fifth-round selection last year out of Virginia, is getting valuable reps in Colon's place with the first unit during OTAs.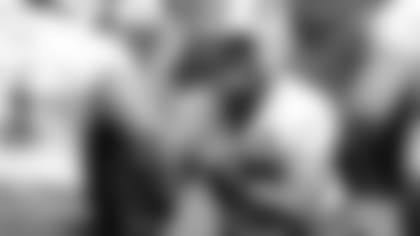 "We moved Oday inside," said Mornhinweg.  "Really that thought was even before Willie tweaked his knee and he has done outstanding inside."
The Jets like the talent they have at the tight end position and Mornhinweg may elect to go to a lot of two tight-end sets with veteran Jeff Cumberland and second-rounder Jace Amaro.
"Jeff was a huge signing for us.  I think very highly of Jeff and Jace has already shown that he is a big, big man that is a natural athlete," Mornhinweg said.  "He has great hands, he moves easily, he can run just a little bit so we should be utilizing both of those men."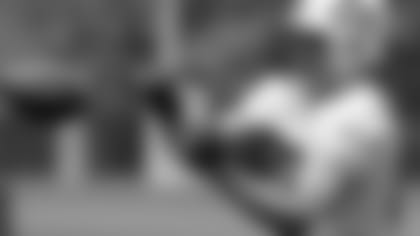 While the Jets have more weapons to attack teams with in 2014, Mornhinweg knows there is a long road ahead before September.
"It feels like that we are just light years ahead of where we were last year, but we just can't let that trick us into thinking we're any better at all yet," he said.  "There is a lot of hard work and preparation left heading into training camp, so we expect to get that part of our job done as well."
Thurman is comfortable with where the Jets are at cornerback, stressing the importance of keeping newcomer Dimitri Patterson healthy and commenting on the upside of rookie Dexter McDougle.
"He's talented, he's very patient, he's skilled, he has good speed (and) he's strong," DT said of the third-rounder out of Maryland.  "He was coached last year by a friend of mine — Brian Stewart — at the University of Maryland who was high on him.  We feel like we got a pretty good player, but it remains to be seen.  He has to go out and prove it."
While McDougle has been limited at OTAs as he works his way back from a shoulder injury, first-year special teams coordinator Thomas McGaughey likes the explosiveness he has in the return game with former Raider Jacoby Ford and rookie Jalen Saunders.
"The speed is there.   Now hopefully I don't screw it up," he said.