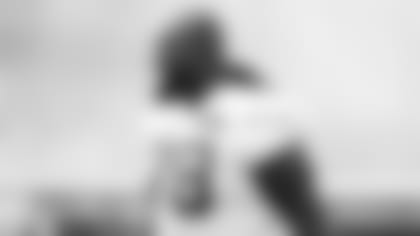 The weather can be crazy in the NFL. It can be a whirlwind where you never know what new people are coming at you around the corner. It can be a pleasant summer's day when you meet up again with old friends and with old foes who are now teammates.
For Jets tackle Morgan Moses, it's been a little of both.
"It was out of the blue," Moses said this week about being released in May after seven seasons with Washington, then signing with the Jets early last month to join their offensive line. "But at the end of the day, I know God has a plan for me and we landed here.
"New team, new everything. So I can't complain."
And yet consider everyone he knows in his new employment opportunity. He and George Fant, the player he'll be competing with for the starting right tackle job, trained together in Florida the past two offseasons. Recently signed edge rusher Carl Lawson? Moses played against his Bengals twice in the preseason and last year in the regular season. Jets general manager Joe Douglas is an old O-lineman from the Richmond, VA, area, where Moses was born.
And one of the biggest connections is with the biggest Jet at this training camp. Left tackle Mekhi Becton grew up in Highland Springs, VA, not far from the Washington football team's Richmond training center.
"Seeing Mekhi, I've known him for years," said Moses, who first met him when Becton returned from Louisville in the summer. "Before he even got in the NFL, he used to come to training camp in Richmond. Just being able to see his development pattern over the years going into his second year has been great. If there's anything I can do to help that, which is the knowledge of the game that I've played, playing so many games, I'm willing to do whatever it takes to get the guys to the next level. I think I've seen some things over my eight years of being in the NFL and I've had a great teacher in Trent Williams when I was young in Washington so it's my job to spread that knowledge across the room."
Moses is even well-acquainted with a Jets legend at his position. D'Brickashaw Ferguson played four seasons at the University of Virginia, almost a decade before Moses arrived at UVa. "C'mon, yeah," Morgan said when asked if he knew Brick. "UVa great, yessir."
Ferguson, when reached by newyorkjets.com, returned the compliment.
"I've had the opportunity to meet Moses and have been impressed with him as a person and athlete," Ferguson said. "His success in football is a testament to the work he's done to develop his craft."
Moses and Ferguson have another thing in common besides alma mater: virtually 100% availability as pros. Ferguson almost literally never came off the practice or game field as a 10-year Jet. Moses, meanwhile, has taken 5,920 regular-season offensive reps from 2015-20, 19th-most in the NFL among all players in that span. And Moses has started all 96 games in those six seasons (98 if we count playoffs), one of only eight NFL players and one of only three O-linemen to log 96 starts in that span.
"Availability is key," Moses said. "I've been able to play 90-something consecutive games, and that's just the willpower of not wanting to leave my guys out there by themselves. I feel like if I can go out there and play a little better than the backup might be, then I'm going to go out there and try. ... When I got into the NFL, I had some good vets that took care of me, taught me how to go to yoga, eat right, stretch, take care of the body because at the end of the day, you are the CEO of your body. If you're not available, you can't showcase your talent on Sundays and that's the biggest thing."
How much will Moses get to showcase his talents with the Jets? That depends on the camp battle between him and Fant, who will return to practice soon from a stay on the Jets' reserve/COVID list.
As far as adding Moses to the roster, head coach Robert Saleh said a team can never have enough offensive or defensive linemen.
"Morgan has been a tremendous player for many years in this league," Saleh said. "Adding him is a tremendous asset. As far as naming him the starting right tackle, George Fant had fantastic OTAs and did a really nice job during minicamp. He has all the tools necessary to be a successful right tackle also. There's a lot of competition from that spot and it's going to be fun to watch."
Moses couldn't agree more.
"Competition is everything for me. Nothing is given," he said. "Everything I've worked for since I've been in the league, I've earned. That's how I want it to be. I feel like if things are given to you, we take it lightly. At the end of the day I'm here to get myself better and try to make this team and the offensive line better. Whether that's in a starting role or not, I'm going to be the same guy, I'm going to show up every day and give my best effort and put my best foot forward."
No matter the NFL weather.