Muhammad Wilkerson and nine other New York Jets turned TGI Friday's red and white to Green & White in Linden, NJ, Monday night as they donned their aprons and served as waiters for an evening in an effort to raise money for Mo's T.E.A.M. 96 Foundation.
As a Linden native, Wilkerson's foundation provides scholarship money for Union County high school student-athletes to go to college and pursue their dreams.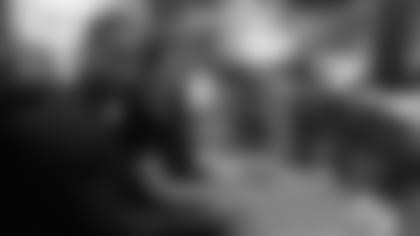 "I think it's great being that I play for the Jets and I'm home," Wilkerson said. "I can help out the community the best I can, make it better with my presence and by doing different things in the area to help out."
Those in attendance paid $75/ticket, and many donated hundreds more during a live auction period that included items such as a tour of the Atlantic Health Jets Training Center by Big Mo himself ($900), a pair of Jets-Browns tickets, a signed Santonio Holmes jersey ($450), and a football signed by this year's team ($575). By the end of the event, nearly $10,000 was raised for the foundation.
"This night's great for me personally," Wilkerson said, "because I get to interact with the fans and let people know that I appreciate their support for me and my foundation"
Of course, the night wouldn't have been possible without the help of Muhammad's teammates.
"Being able to play with Mo at Temple University from 2008-10 was amazing," S Jaiquawn Jarrett said. "I went to his draft party with a few family members and friends and was able to see their excitement the moment his name was called. His mother, I just call her Mom. The Wilkersons are family for me, so I'm going to support them in any way possible."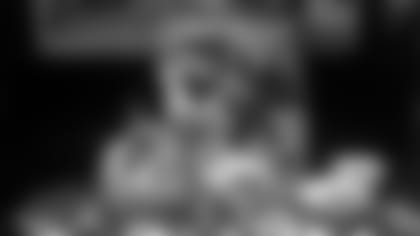 Also a pre-Jets teammate of Wilkerson from their days at Hargrave Military Academy, LB Quinton Coples, said, "It's a good cause, he's trying to help out these kids in every way possible, so anything I can do to assist him and make sure that these kids get the benefits in life that they deserve and work hard for, I'm all for it."
Coples double-dipped, working as both a server and an auctioneer during the evening.
Holmes, S Ed Reed, LB David Harris, LB Calvin Pace, DT Leger Douzable, CB Kyle Wilson and LB Antwan Barnes were also in attendance.
"It shows that the Jets, we're not just brothers on the field but we're brothers off the field as well," Wilkerson said. "We support each other 100 percent and got each other's backs."