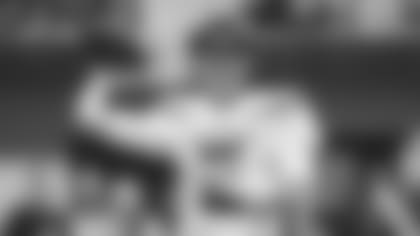 After starting the season as the Jets' No. 3 quarterback, Mike White was elevated to backup for the Jets' Week 8 game against the Patriots. Then following the Jets' second matchup against the Pats, White was named the team's starter before its post-Thanksgiving date home date against the Bears.
"I remember when we first talked when this whole ride started," White told reporters in December. "It was week-to-week, day-to-day. I got to fall back on that. Just because it's longer in the season, you can't do that. You can't do that for yourself because you won't play well, your mind will race. I feel like I've said that 15 times, but I truly believe it. I'll say it 16 or 17 more times. I think that's the only way to play this game, especially in this League. It's a week-to-week basis. Things change so fast. You just got to be in the moment, be in the now, and focus on that."
Things changed rapidly for White throughout the 2022 campaign. He torched the Bears for 315 yards and 3 TDs as the Jets improved to 7-4 and looked poised to earn a postseason berth. He led a 486-yard offensive output the following week in Minnesota, but the Jets finished just 1-of-6 in the red zone and dropped a 27-22 heartbreaker. Then in his third start, at Buffalo, White absorbed a pair of hits to the ribs from Bills defenders Ed Oliver and Matt Milano that forced him to the hospital for evaluation after a 20-12 loss.
Forced back out of the lineup, White patiently waited to get cleared for contact by doctors. With the Jets still hanging onto playoff hopes, White received the green light prior to the Green & White's Week 17 date at Seattle. Clearly hampered by his ribs, White didn't have his accuracy in a 23-6 loss on New Year's Day. He was sacked four times and his injury was reaggravated following a big hit from Seahawks LB Darrell Taylor at the end of the first half. White's season was done after four games as he completed 58.9% of his passes for 1,192 yards with 3 TDs and 4 INTs. He told reporters he gave it a go despite multiple ribs fractures.
"So there was technically a total of five [fractures]," he said. "But [the doctors] said one [fracture] looked like an old one, which I don't understand, but they're smarter than me. So a total of five."
In 2020-21, White started seven games for the Jets and appeared in eight games. After he was cleared to play against the Seahawks, HC Robert Saleh said White would remain the starter barring injury. But things rapidly changed again and White, who sustained a right forearm injury while throwing a TD pass against the Colts last November, wasn't 100% when his opportunity came.
"I wouldn't say the permanent part meant anything," he said. "Anytime you're named the starter, you wear that badge with honor. To be able to go out and lead these guys and just to know how hard these guys work and how important it is to them, you get that chance to lead them because every quarterback is the leader. I take that with a lot of pride and seriousness and professionalism. That's the coolest part about it for me, not so much the longevity of it, it's just the opportunity itself."
As the Jets cleaned their lockers before going their separate ways for the offseason, White was asked about some of his favorite moments of the season. He pointed to Elijah Moore's TD reception against the Bears and a celebration from his teammates during that 31-10 romp.
"There was a run play I'll never forget that C.J. (Uzomah) and Tyler Conklin didn't execute as well as they could earlier in the game and they were begging our coaches to call it again," White said. "They called it again, they crushed it and for some reason, my line of vision caught them, and they both did this little high-five celebration. I could see they pointed at the sideline like told you... it was just little stuff like that from this season. Just watching guys have fun and do their job was a lot of fun."
White will turn 28 on March 25
th. Saleh said the team is committed to finding a veteran QB and continuing to develop Zach Wilson. White's contract is set to expire March 15th but expect him to stay in the moment until then and beyond as he continues to drink his milk and take his calcium pills.
"I've been here for four years," he said. "I really enjoy it here. I know things change very fast in the NFL and situations are fluid especially in free agency, so obviously prepared for whatever happens. That's kind of the approach I'm taking, sit back and see how it all plays out."