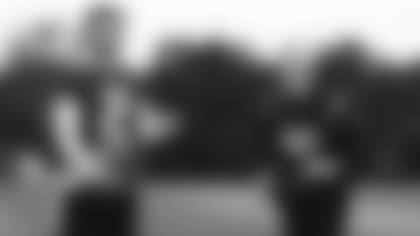 Back in August, when the Jets and Packers had a joint practice, Green Bay quarterback Aaron Rodgers turned generous with his advice to Jets' rookie quarterback Zach Wilson.
"All the great ones, and I hate to speak for Aaron, but one of the biggest pieces of advice he gave him in Green Bay is that you're going to be good when you learn to read with your feet," Green & White offensive coordinator Mike LaFleur told reporters on Thursday morning. "I think Zach's going through that now. You're trying to run that system when all things are perfect and when receivers are getting from Point A to Point B, he's consistent. But when there's disruption, timing is going to be thrown off, it's not going to be as perfect as it was on Wednesday and Thursday [in practice]. I thought he did a really good job last week [against the Eagles], when there was a disruption of timing, to get the ball out."
That bit of advice from Rodgers, the NFL MVP last season, might seem counterintuitive because, after all, who reads with their feet? Elite quarterbacks, that's who.
Whatever Wilson was "reading" in last week's game against Philadelphia, he had perhaps the best game of his young career -- in the opinion of LaFleur and head coach Robert Saleh. He directed the Jets to touchdowns on the team's first three drives of the game. The start wasn't the issue, it was the Eagles' dominance of the clock in the second half that was.
"I know you guys get tired of hearing it, but he had his best week of practice last week," LaFleur said. "His first game back [after missing four games with a PCL strain] with Houston he didn't play or practice much. That's a big deal for a rookie quarterback because of the timing and speed of the NFL game. After Houston, we were able to teach from off the tape. One thing was that we had to slow him down, he was a bit too fast in and out of drops, a little ahead of the plays.
"In a timing offense like ours, it's so important that you read with your feet, each play has its own tempo. He did a good job of owning the tempo, getting his eyes in the right spots and it happened from the get-go. The other thing I noticed from up top [in the press box] was his calmness and command early. It's probably the best it's been all year. A few things stood out that he really improved on."
The offense was at its best in the first half last week, but was limited in the second half as the Eagles controlled the ball and kept the Jets' defense on the field for the lion's share of the third quarter's 15 minutes. In the first 30 minutes, Wilson completed 12-of-14 passes and tossed short TD passes, to Elijah Moore and then Ryan Griffin, to complete long, time-consuming drives. He also squeezed over from 1-yard out for his second rushing TD of the season.
But this week, Wilson and the Jets could be missing Moore due to a quad injury (he did not practice on Wednesday or Thursday) and will definitely be without Corey Davis, who is out for the season after undergoing a core muscle operation. But Keelan Cole has been activated from the Reserve/COVID-19 list and LaFleur is confident in the receivers who will suit up to face the Saints on Sunday at MetLife Stadium.
"We sat there after the draft and preached that we believe in this receiving corps, it's really deep," he said. "Whether Elijah can play, Corey is out, it's next man up. It's always going to be that way. Anyone in this building, we have faith in. Whoever steps on the field, we're going to run our system and expect them to absolutely play their hardest."
Asked if he believes that the media scrutiny in the New York metropolitan area has had a negative impact on Wilson, LaFleur was sharp and emphatic.
"This market can challenge a person, it can challenge a human, it can challenge a quarterback," he said. "But in this league it doesn't matter where you're at. Quarterbacks are always going to be challenged, they're always going to get critiqued. Zach is made of right stuff, he's been able to ignore the noise and come to work and focus on the tempo, his eyes.
"Everything outside this building doesn't matter right now. We have to focus on getting better every day."
LaFleur had a cool little take on wide receiver and special teams dynamo Braxton Berrios toward the end of his time at the lectern. Berrios had a nifty 50-yard catch-and-run play at Houston, then opened the game against the Eagles with a 79-yard kickoff return.
"He's got little-man syndrome. I understand that, my wife and brother [Packers head coach Matt LaFleur] would say the same thing about me," he said. "We've got a good relationship, he is ultra-competitive, we have a lot of guys like that. Sure he's been doubted, particularly when you get to this level. He's not the biggest or the fastest, but he's a competitor and a dog. He believes he is the best one out there when he steps on the field. He's made a lot of plays for us. He's giving everything he's got every time he gets the ball and I think his best days are ahead of him."