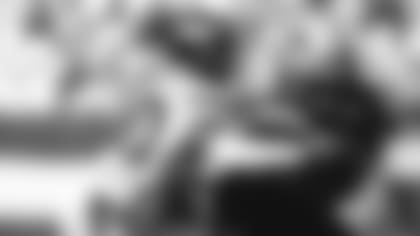 Michael Carter II, the Jets' rookie cornerback from Duke, says it's not hard to tell on the practice field when he's screwed up or Michael Carter, the rookie running back from North Carolina, is the one who committed the error.
"I think I've kind of taken on just part of the name, so I'm just MC," Carter told Bart Scott and Dan Graca on Inside the Jets this week. "He's Mike or Michael, I'm MC or MC-2 or whatever the coaches want to say. So it's really not too much confusion anymore on that end."
Michael O. Carter and Michael D. Carter, if you will, are also making their own names on the field. The RB led the Jets against New England with both 59 rushing yards and 88 yards from scrimmage.
And the 5-10, 190-pound nickelback has been doing his thing stopping and dropping opposing ballcarriers. MCII has 13 tackles, third-most on the Jets defense behind veterans C.J. Mosley and Marcus Maye with 14 each. And in each game Carter has made a tackle behind the line on a pass play, with his two TFLs coming in second behind DL Shaq Lawson's 2.5 for the Green & White.
Carter explained that it's natural for him to be up in tackles, since it's been an element of his approach to the game since his days with the Blue Devils.
"I think what helped me," he said, "was even though in college, being a nickel corner and moving around, playing all the positions at one point or another, the way it was set up at Duke was our nickels were in the safety room. We learned all the safety stuff, we did individual drills with the safeties, so I was considered a safety. That developed my mentality as far as I'm considered a nickel cornerback but I have that safety come-down-hill mindset."
Carter isn't just high on the Jets' tackle list. After two weeks, he's got the most among all rookie DBs in the NFL and is second among all rookies, trailing only Kansas City LB Nick Bolton's 16 tackles. Here are the league's top five rookie tacklers:
Table inside Article

| Player, Pos, Team | Team | Solo | Asst | Total |
| --- | --- | --- | --- | --- |
| LB Nick Bolton | KC | 12 | 4 | 16 |
| CB Michael Carter II | NYJ | 5 | 8 | 13 |
| CB Paulson Adebo | NO | 8 | 2 | 10 |
| CB Asante Samuel Jr | LAC | 7 | 2 | 9 |
| LB Micah Parsons | DAL | 5 | 4 | 9 |
It's early in the season, with plenty of time for the first-year linebackers and D-linemen to assert themselves and pass by any corners on the list. And it could be argued that when DBs are leading tacklers on any list, it's often because they're making those tackles downfield after the catch.
Yet the Jets defense, despite the fits and starts of the team's 0-2 record out of the gate, has shown some some flash. Head coach Robert Saleh and coordinator Jeff Ulbrich are stressing no explosive plays, and so far the only completions over 30 yards were Robby Anderson's 57-yard touchdown catch in the opener and TE Hunter Henry's 32-yarder for the Patriots.
And the Jets' defensive rankings are intriguing. The pass defense, allowing 214.5 net yards/game, is in the NFL's top 10, at No. 10, for the first time since 2018. As a unit, the Jets are ninth in yards allowed and tied for 10th in points allowed, their highest rankings in those columns since 2019. The run defense checks in at No. 12. They could use some takeaways and some more pass defenses, but as Carter said about his unit vs. New England, there's "a lot of promise and optimism."
"As a unit, the way we finished and fought, we have a chance to be great," Carter said of the D's performance against the Patriots. "Then we can continue to help make the team great as a result of that. But obviously, there's no satisfaction because we couldn't pull it out. So I think we finished good, but then we've still got to get the ball back for the offense. We've got a lot of things we can improve on, too.
"Week by week, we're growing together, humble and hungry for sure."